TH
Stella McCartney Reveals Summer 2020 Ad Campaign
"Fashion doesn't have to sacrifice style for sustainability"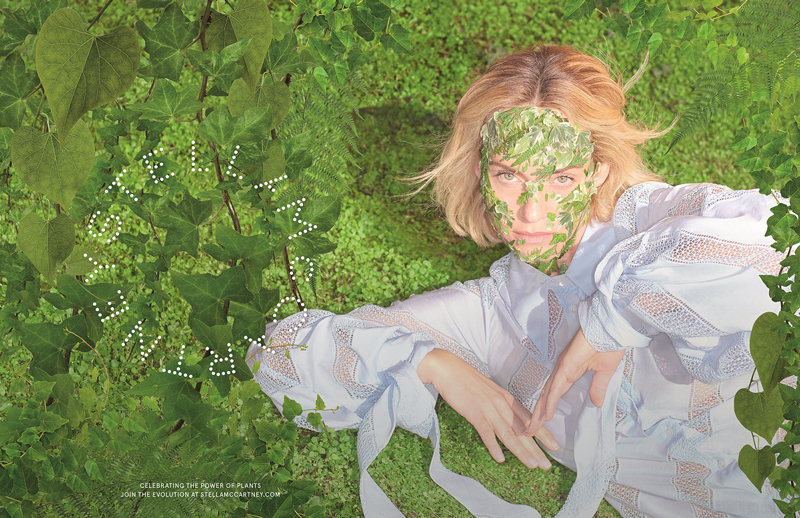 Stella McCartney reveals the Summer 2020 campaign, highlighting the most sustainable collection to date and celebrating the power of plants. The new campaign features Amber Valetta who, like McCartney herself, is a vocal campaigner for sustainable change within the fashion industry.
The power of plants is seen in their resistance and constant renewal. Plant life will continually overcome diversity to grow, restore and regenerate. Humankind has had a long and important symbiotic relationship with plants and they are a resource for many of our products. The new campaign images highlight that plant life has been on earth for 700 million years and despite the continued devastation of climate change, plants will continue to evolve and thrive.
Enveloped in a lush living carpet of green, model Amber Valetta embodies everything the collection stands for; luxuriant, brave, defiant and fierce. Wearing a photographic print of wild daisies shot by Stella herself, captured on her bicycle rides through the England countryside, the daisy's natural beauty is placed onto flowing silk dresses with shots of binding colour bringing the fabric to life.
In another image Amber wears a subdued baby blue lace stripe shirt in voile macramé of organic cotton and silk, the garment is covered with intricate lace embroidery set in dynamic stripes. 90% of the cotton in the Summer 2020 collection is organic and grown with no toxic pesticides or synthetic fertilisers. Organic cotton consumes up to 70% less water than conventional cottons, maintains soil health and promotes high social standards for farmers.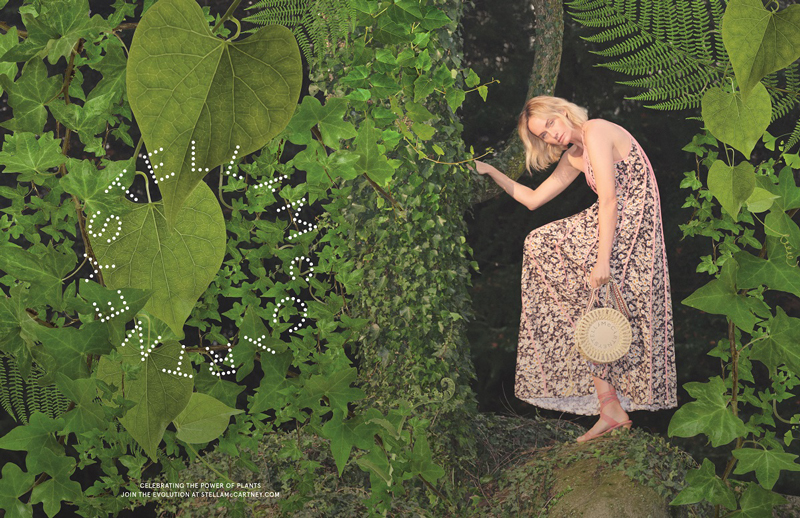 The campaign also features a new bag shape for summer, structured and circular, mirroring the brand's commitment to a more circular economy. The bag is made with Eco-Alter-Nappa that has a recycled polyester backing, reducing the amount of petroleum used, with a coating made with more than 50% vegetable oil – a natural, renewable resource. The circular Stella logo holds focus at the centre, as the wrapped raffia creates radial lines for a solar effect, brought together by an organic lining.
The new Summer campaign images are embroidered with fern leaves, creating an intersection of handcraft, modernity, nature and beauty.
Continuing Stella McCartney's ongoing commitment to sustainability, the Summer 2020 collection is the brands most sustainable to date, with 78% sustainably sourced materials including recycled polyester, organic cotton, regenerated cashmere, sustainable viscose, responsible and traceable wool, ECONYL® regenerated nylon, solvent free PU, gold certifies wool yarns and Eco-Alter Nappa.
To celebrate the reveal of the Summer 2020 campaign, Stella McCartney is launching a 'Plant Power' face filer with Instagram. The Plant Power filter mimics the Summer 2020 campaign by adding leaves the users face, slowly dropping away when the user shakes their head, and when the users opens their mouth, leaves appear to come out. Plant Power is now available through the @StellaMcCartney Instagram page.
The campaign will run in select global print titles Spring Summer 2020 issue. A second set of campaign images will be released at a later date, depicting the transparency of the journey from plant to product.
Credits:
Model: Amber Valetta
Creative Director: Stella McCartney
Hair: Cydnia Harvey
Make-up: Hiromi Ueda
Explore Summer2020 collection from Stella McCartney at
The EmQuartier M Floor T. 02-021-2111
Line: @stellamccartneyth