VALENTINO PINK PP MEN'S ADVERTISING CAMPAIGN: STARRING LEWIS HAMILTON
Still frame of a moment, frozen in a monochrome sign that pervades everything: Zendaya in Valentino for the PINK PP new Advertising Campaign.
DI.fferent VA.lues = DIVAS. The contemporary Valentino DI.VAs is a multifaceted character of codes and inner values. Valentino's Creative Director, Pierpaolo Piccioli continues his conscious and progressive way of making culture by creating an authentic relationship with DI.VAs, becoming a real cultural comeback. From cinema, music, literature to sports, each DI.VAs plays a key role in sustaining the new vision gaining diversity by uniting together. Different faces that have as a fil rouge the modern mantra of empathy and connection.
---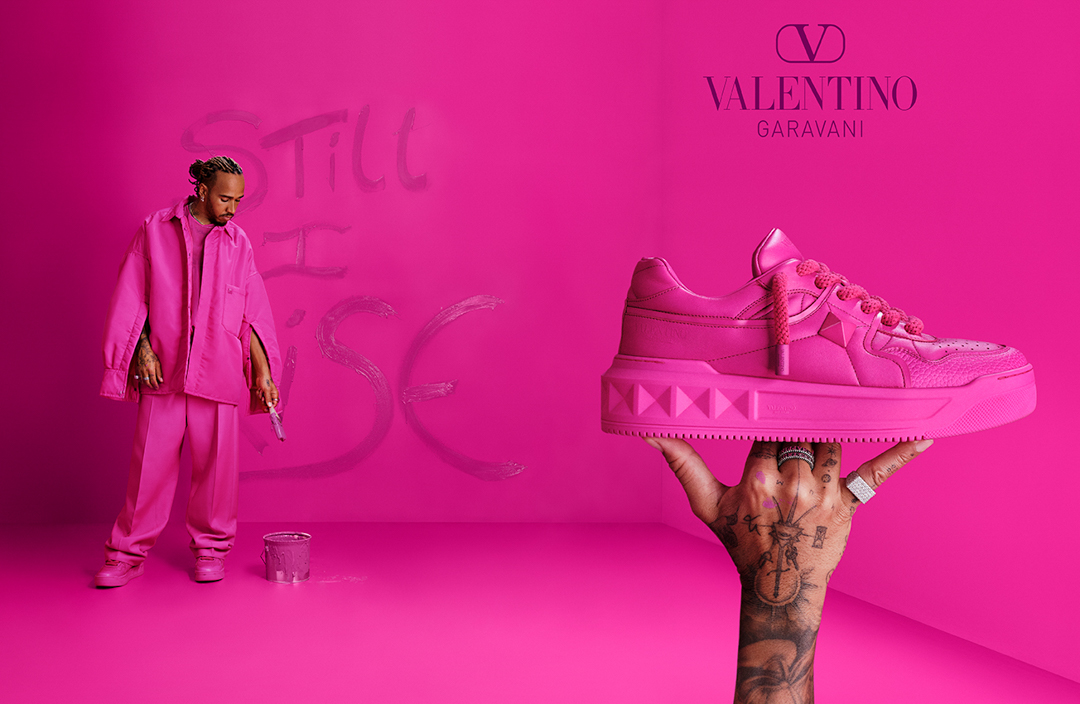 ---
Hamilton enters the values of Pierpaolo Piccioli with his authenticity, individuality, and fierce advocacy. Considered one of the most successful drivers in Formula One, Lewis' approach off the track is just as passionate and dedicated, having committed to using his position, platform and influence to drive change in motorsport and beyond, for future generations. In 2021, Lewis launched his own charitable foundation Mission 44, which aims to support, champion, and empower young people from underrepresented groups in the UK, through strategic partnerships, collaborations, grant giving and advocacy.
Nicolas Kern shoots him in a totalizing and intimate Pink background with a handwritten manifesto behind, portrayed in a reflective and symbolic pose. Pink is the possibility for the re-composition of fashion signs, thanks to a neutrality freed from the rules of the here and now. It is a lucid dream. Being inclusive and part of the community. An act of empathy, the Valentino Men's Campaign shows the man behind the sport that represents all the values of the Maison.
The still image of a moment, created by a monochrome collection: Pierpaolo Piccioli immersed the collection relentlessly in a single shade: Just like a visual expression poetry: gentle and disruptive. It is the result of research and of a necessity, fuelled by a desire to create a lasting shade that would communicate the legacy of Valentino through a modern lens.
PINK PP is a manifestation of the unconscious and a liberation from the need for realism.
TALENT: Lewis Hamilton
IMAGE ARCHITECT: Law Roach
PHOTOGRAPHER: Nicolas Kern
MAKEUP: Hannah Murray