Hermès at Watches & Wonders Geneva
Time travels the world
---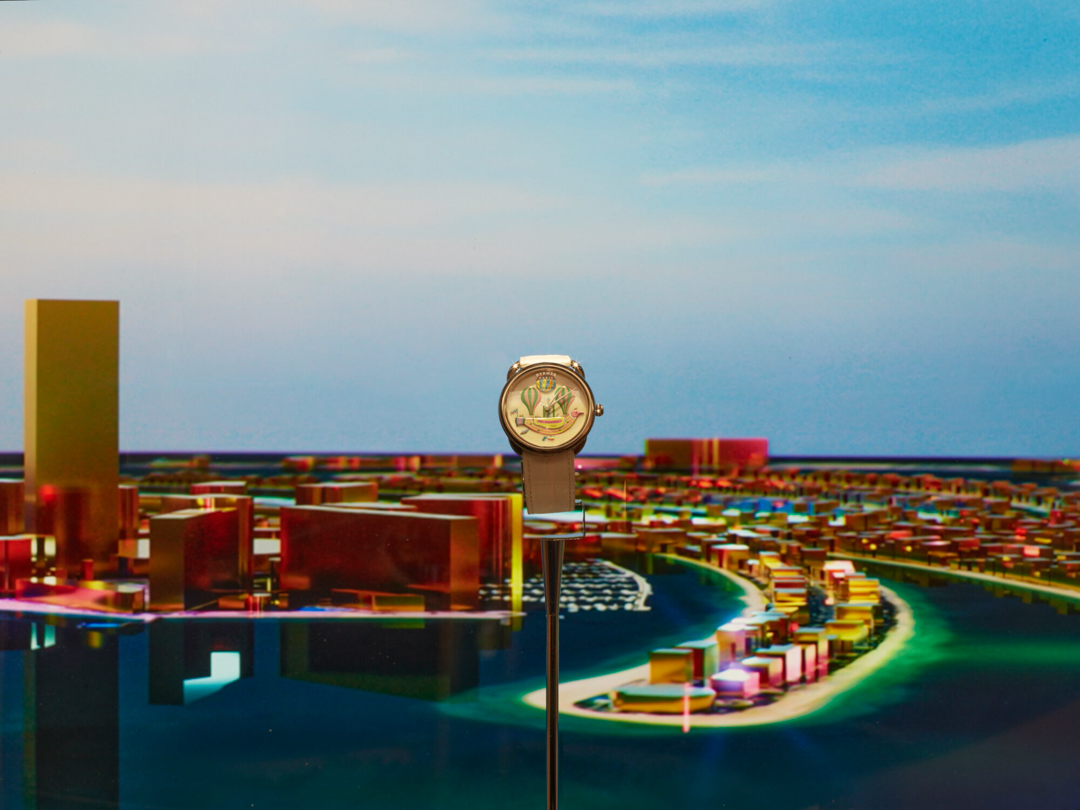 ---
On the occasion of Watches & Wonders in Geneva, Hermès invites us to travel, discover and experience adventure through an immersive artwork offering a phantasmagorical escapade. Entitled Time travels the world and imagined by Canadian artist Sabrina Ratté, the installation takes us into the universe of Hermès time. It is inspired by the new Arceau watch: Arceau Le temps voyageur. An ode to discovery, it combines the rigorous discipline of an object designed to last through time and imbued with the fanciful of Hermès time. A singular approach to mechanical watchmaking, it offers a playful and fantastic vision of the hours of the world. It is a beautiful escape that seems to fulfill our dream of ubiquity: being everywhere at once, travelling the world in a few steps.
The work forms a creative bridge between traditional skills and contemporary technologies, allowing us to cross time and space. By playing with these possibilities, the artist whisks us from one country to another and leads us through territories transformed by her imagination. We first discover 12 interactive landscapes echoing various time zones. Inside the atrium, a monumental panorama unfolds before visitors. Looking up, they discover a celestial sky dotted with constellations. The earth and the sky, seen from space or reflected by fragments of glass, merge in a harmonious choreography where time flows sometimes slowly, almost frozen, while occasionally accelerating and condensed. A kinetic mobile is suspended between heaven and earth, surrounded by watches that gravitate like satellites. Inspired by science fiction, technology and cinema, the terrestrial landscapes imagined by Sabrina Ratté are transformed before our wondering gaze.
Time travels the world offers a chance to explore non-linear time and space, inspired by ancient optical instruments and ultra-contemporary digital devices, intertwining past, present and future. Combining a sophisticated measuring tool with a representation of terrestrial space, the Arceau Le temps voyageur watch is part of a longstanding tradition of craftsmanship, technology and the art of time.