Saving our planet! With 4 tips for becoming a socially responsible traveller
---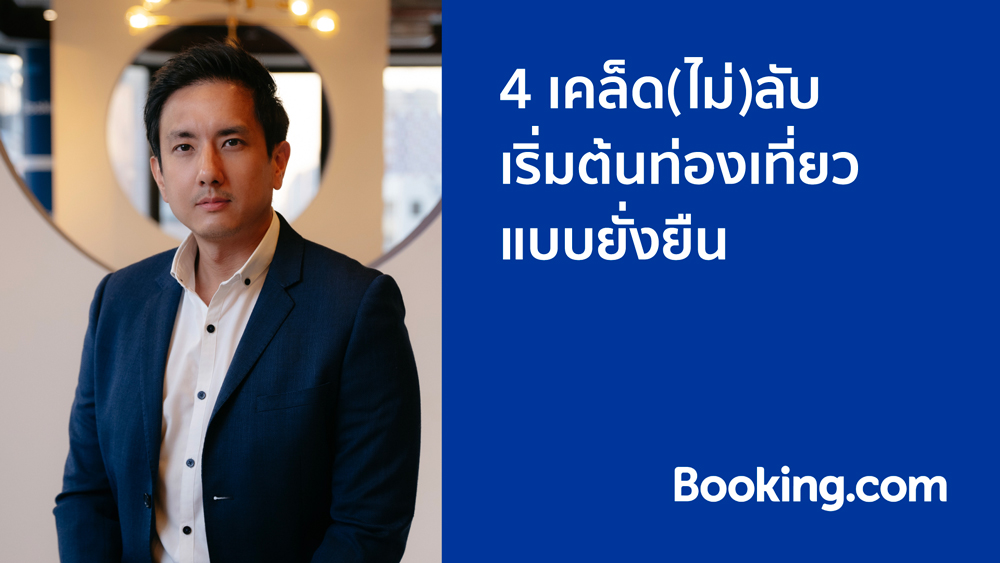 ---
Text and Photos Booking.com
Even as the current pandemic remains uncertain, people are beginning to travel and starting to plan trips for 2022. Yet when it gets to the moment when people start packing, 'conscientiousness' is the one important and extra item being added. More than ever before, travellers are aware that the world and the effects of how we live, consume and travel is something we all must be more mindful about. Travellers worldwide, including Thai travellers, are now prioritizing sustainable living more than ever. Many are realizing that tourism today encompasses our collective action and care when it comes to caring for our surroundings and the environment in our home and the destinations we are travelling to. More and more, travellers are also turning their attention towards how tourism can generate a sustainable economy that benefits local communities.
A recent sustainable travel survey by Booking.com revealed that 94% of Thai travellers think that "sustainable tourism" is very important, and 78% stated that the pandemic has influenced them to want to travel more sustainably in the future. Today, travellers don't only think about receiving impressive travel experiences or comprehensive care services from operators – they are also expecting more from themselves as travellers who can help support the environment and local communities.
Wannasingh Prasertkul, a documentary filmmaker, environmental communicator, host and owner of a travel review channel on Youtube, has shared some great tips and tricks for those who want to travel more sustainably.
Planning the sustainable trip at the very first step of traveling
1. Choose a direct flight
When booking air tickets, whether through an agency or an online travel booking service provider, in the past travellers would usually only think about the price, distance or convenience of the trip. But, nowadays, environmental data has become another key factor that people search for when booking a ticket. If you need to travel by plane, Wannasingh recommends choosing a direct flight, as the carbon emissions are lower than a flight with multiple transits or interchangeable flights and booking a direct flight will also reduce the impact of carbon dioxide emissions.
2. Choose an environmentally friendly accommodation
In the past, it was difficult to know what sustainable practices each hotel has around areas such as eliminating single-use plastic, waste and energy management; however today, travellers can opt to choose hotels that have environmentally friendly measures in place. Finding information and making decisions based on other key factors besides just price and location can play a part in helping change people's standing on environmental and social concerns. The latest survey conducted by booking.com revealed that 98% of Thai travellers want to stay in sustainable accommodation. In line with this trend, Booking.com just unveiled their Travel Sustainable Badge initiative in November 2021, being the first player in travel industry that addresses and provides accommodation for sustainable travel around the world. This was rolled out to help tourists find eco-friendly accommodation through reliable, standardized, and easy-to-understand sources and to serve as a benchmark for sustainable tourism practices in the future. Measures like this will undeniably help push the tourism market to keep changing and improving.
Practising how to become a social-responsible person while traveling
3. Take care of the environment when traveling, just like in your everyday life.
When taking a trip, travellers should take responsibility for taking care of tourist attractions and treat them with respect, ensuring they do not do anything that harms the environment. This includes not littering and not touching anything that shouldn't be touched -- such as marine animals and coral when diving – and not leaving cigarette butts on the beach. What travellers do when travelling should be the same as what they do daily. Thus, people should start changing their actions in everyday life first, such as reducing their waste, reducing their carbon footprint and reducing unnecessary consumption. Then, these guidelines could also be applied during any trip as well. This corresponds with the Booking.com survey which revealed that 87% of Thai travellers will avoid popular destinations and attractions to ensure they aren't contributing to overcrowding challenges and will help do their part to disperse the positive benefits of travel to less frequently visited destinations and communities.
4. Distribute income to the community and reduce over-consumption
Wannasingh thinks that travel from this point onwards will no longer be about tourists searching for the best tastes, comforts, or pleasures alone; it will be about tourists travelling to learn and absorb the ways of life of different people, nature and the stories of communities. This will help us to automatically reduce our comforts and focus more on the world, such as finding stories that inspire us and others to love the environment more. It will also allow us to reduce excessive consumption, have fewer demands as we focus more on what we learned and experienced during our travels and travelling, and live in a way where experiencing nature itself is enough.
This is in line with the latest survey of Booking.com that revealed about the intention of 85% of Thai travellers that want to ensure the economic impact of the industry is spread equally in all levels of society to help distribute income to more local communities. For instance, traveling to less-visited destinations and communities.These sustainable travel tips will help bring together nature, culture and travellers for a long-lasting future. With a bag packed full of responsibilities for both accommodation operators and travel booking service providers, tourists appreciate initiatives like Booking.com's "Travel Sustainable property badge" for accommodation for sustainable travel which provide a good starting point for more sustainable travel, not just for tourists but for the tourism industry as a whole.
Wannasingh also shares his impression on this initiative: "It will help to stimulate the trend of eco-friendly travel in the years to come to become a benchmark that can be compared across the travel industry, beginning from the start of travel right to the destination so that sustainability goals and positive changes at scale are fully realized."
For more information on sustainability at Booking.com, please visit sustainability.booking.com and Travel Sustainable property badge.