Celebrities Attend Dolce&Gabbana Alta Moda Women's Show
---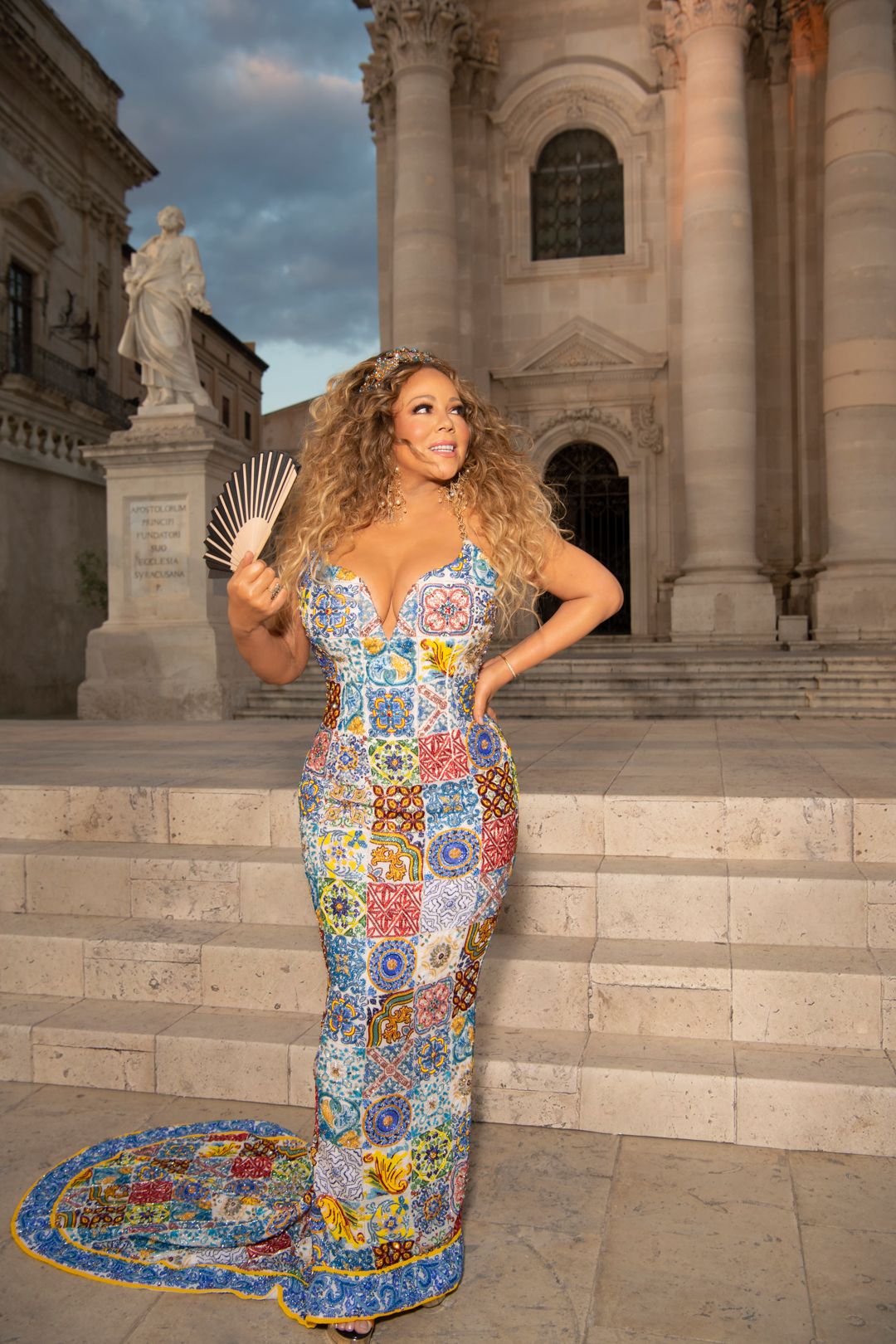 Mariah Carey wore a custom gown reproducing the iconic Sicilian tiles, entirely hand embroidered using Swarovski crystals. She completed her look with Alta Gioielleria earrings, a gold bijoux encrusted tiara, and silver metallic platform sandals.
Stylist: @diandretristan
---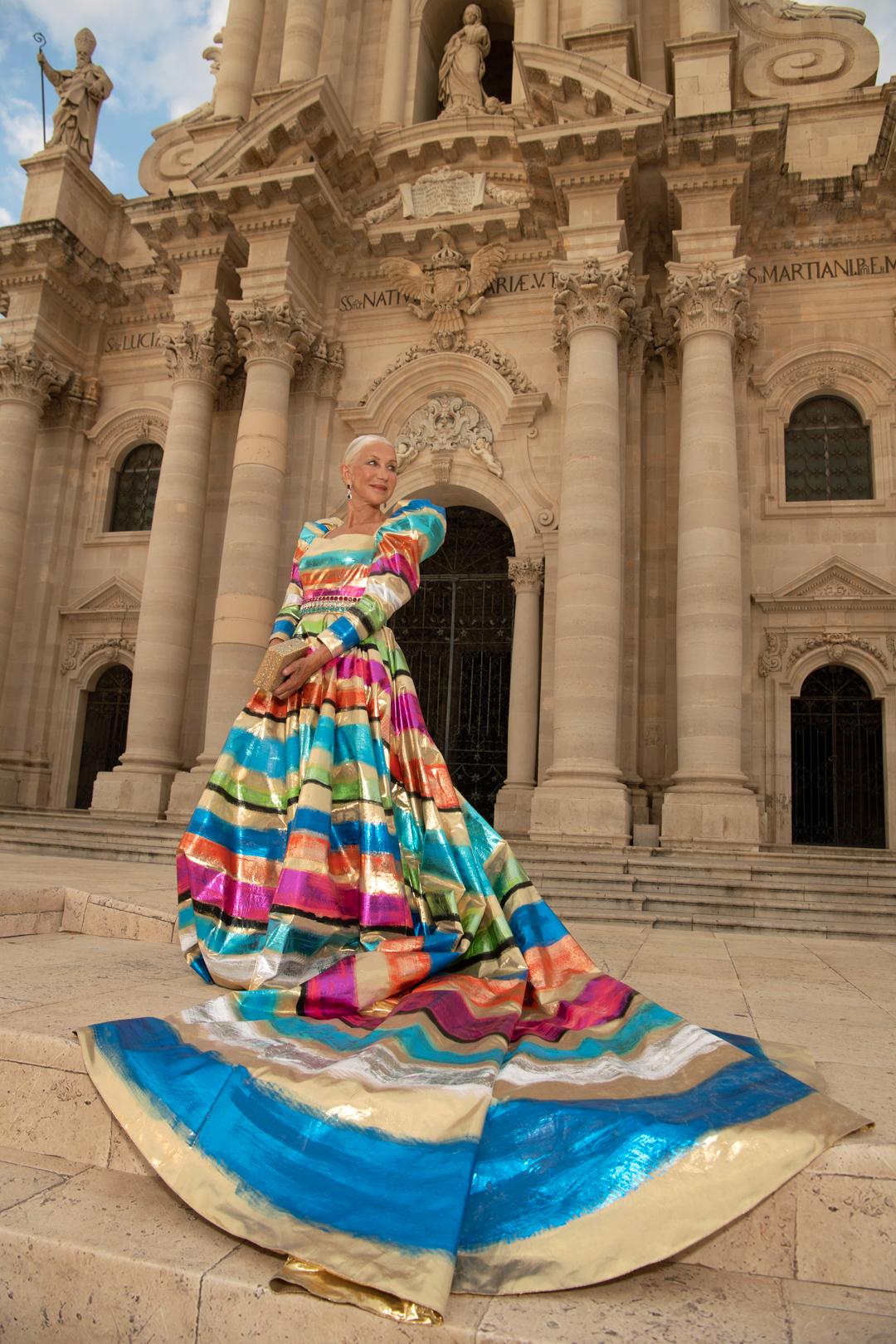 Helen Mirren wore a gold lamé gown with hand painted colorful stripes with crystal embellished waist. She completed her look with a gold foil Dolce box bag.
---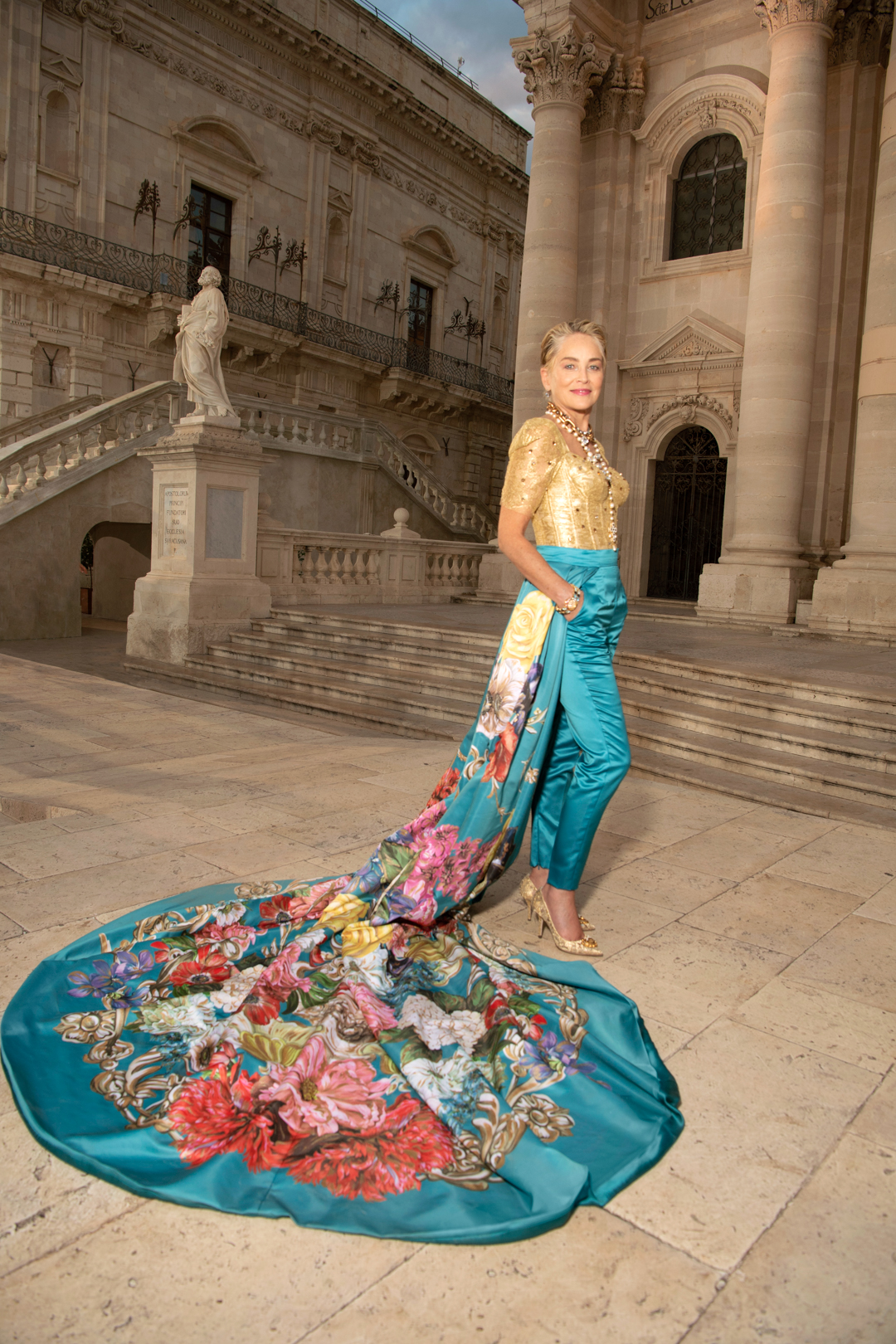 Sharon Stone wore a custom gold lamé bustier with Swarovski embroidery details combined with satin pants with a dramatic train completely hand painted with a floral bouquet motif. She completed her look with gold lace pumps.Stylist: @theparislibby.
---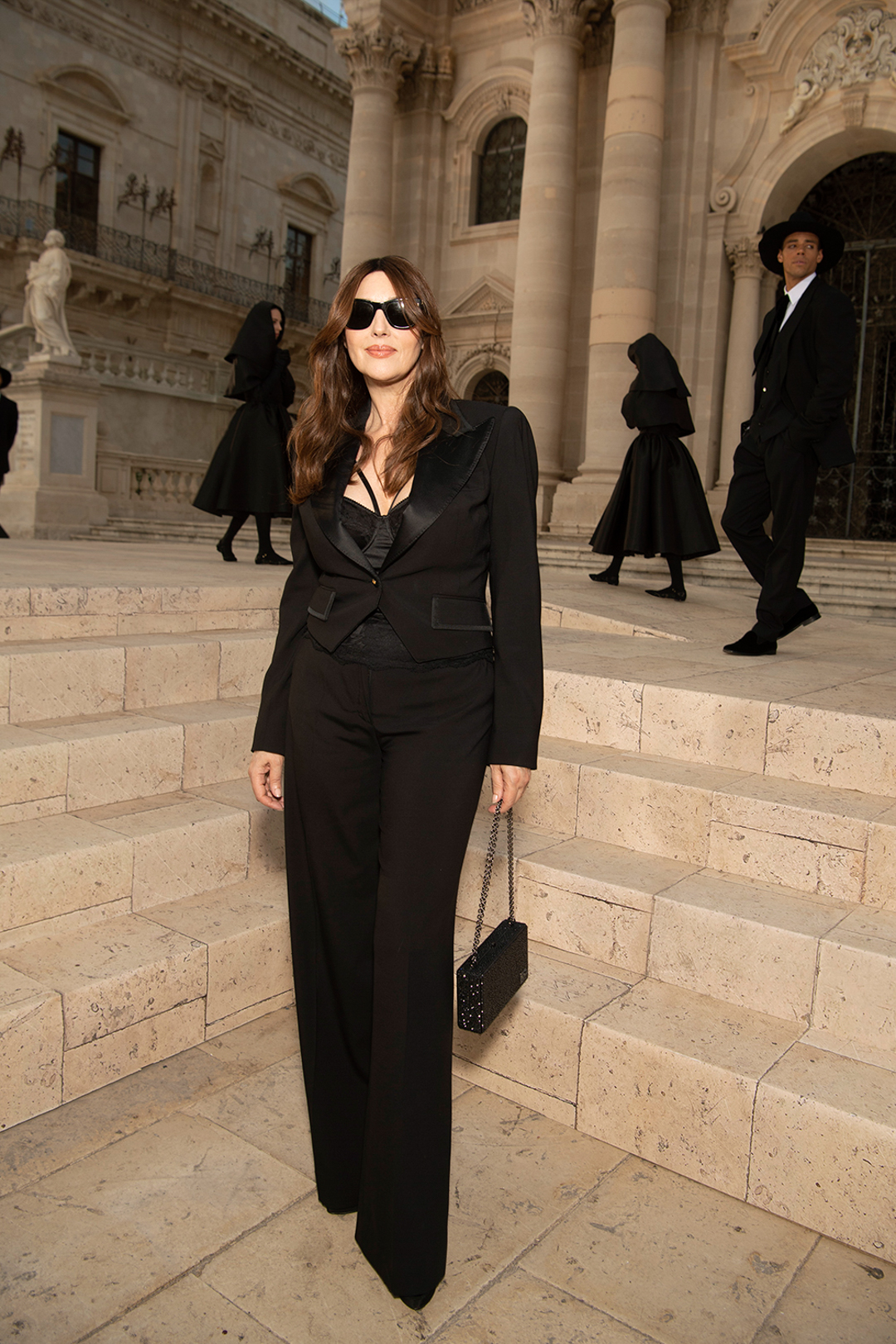 Monica Bellucci https://www.instagram.com/monicabellucciofficiel/ wore a black spencer jacket with a silk satin lapel and gros grain details. She accessorized her look with a satin top with lace inlay and a black clutch.
---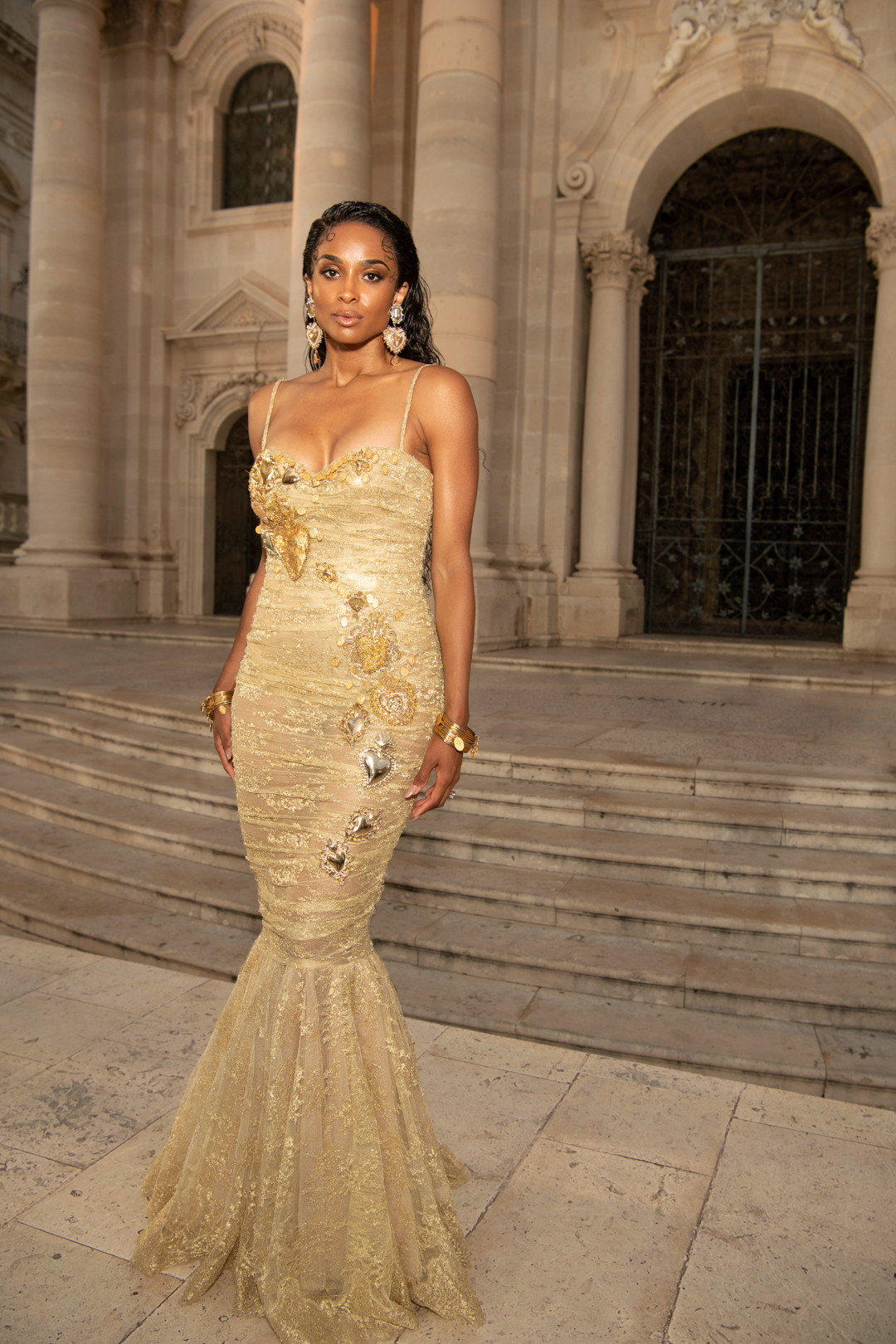 Ciara wore a gold gown in a lamé lace embellished by metal and embroidered sacred hearts.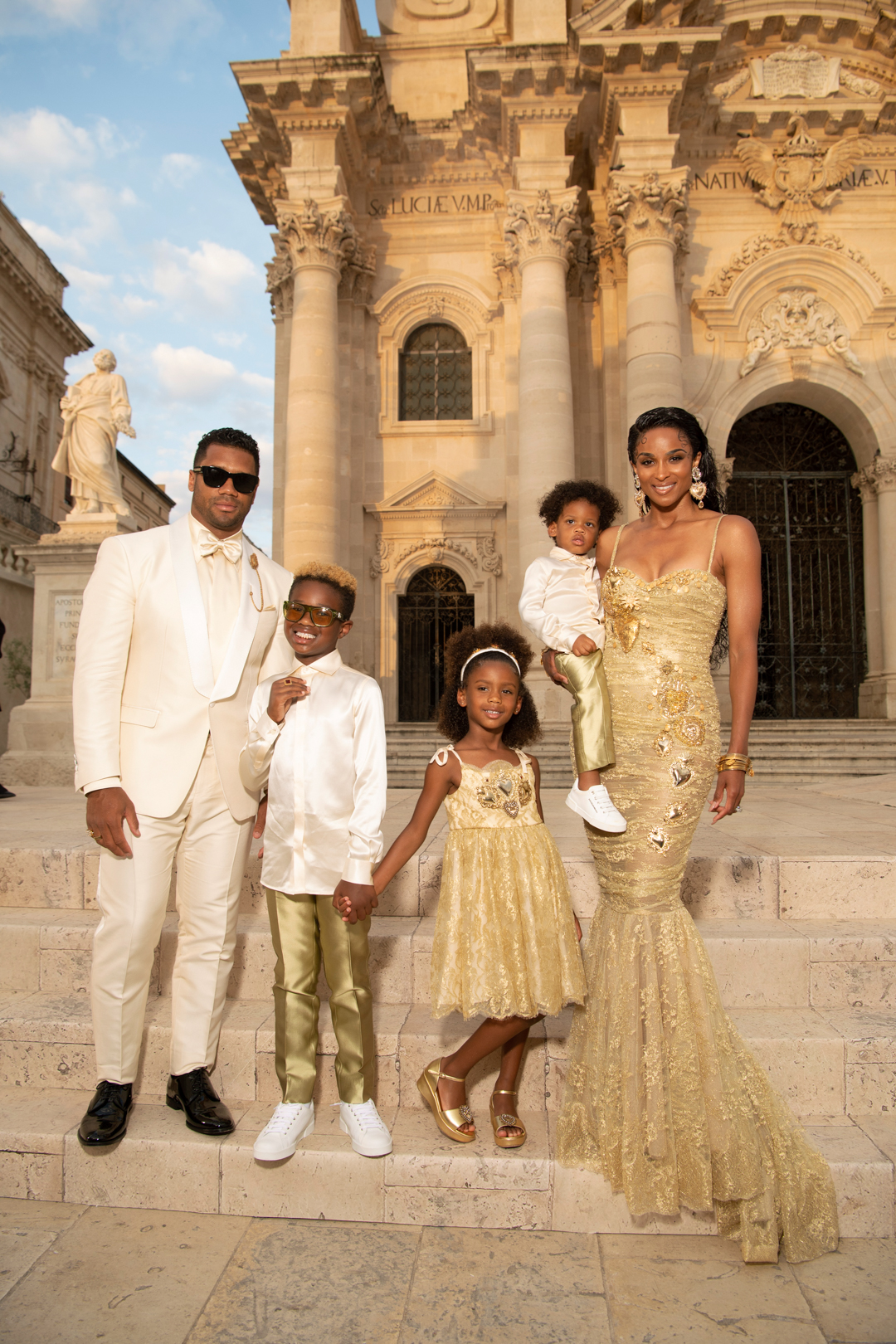 Russell Wilson wore a butter white silk tuxedo with shawl lapel. He completed his look with a cream silk satin shirt, lapel pin, and bowtie.
The children all wore full Dolce&Gabbana looks.
Stylist: @kollincarter
---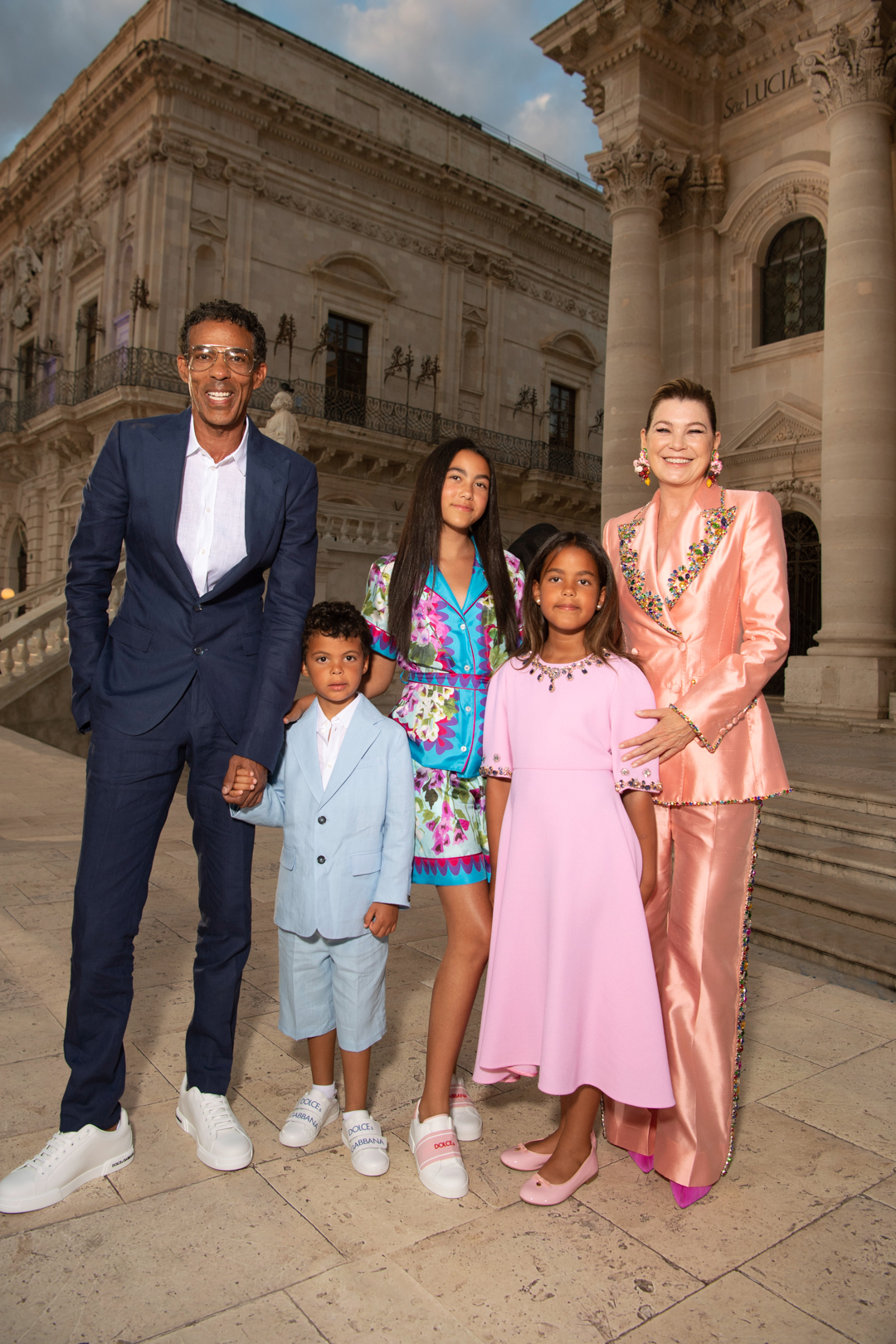 Ellen Pompeo wore a custom peach double-breasted suit in silk Mikado with rose tone handmade illumination Swarovski motif. Her husband, Chris Ivery wore a Taormina-fit blue linen suit over a white linen shirt. He completed the look with white Portofino sneakers. The children all wore full Dolce&Gabbana looks. Stylist: @petraflannery
---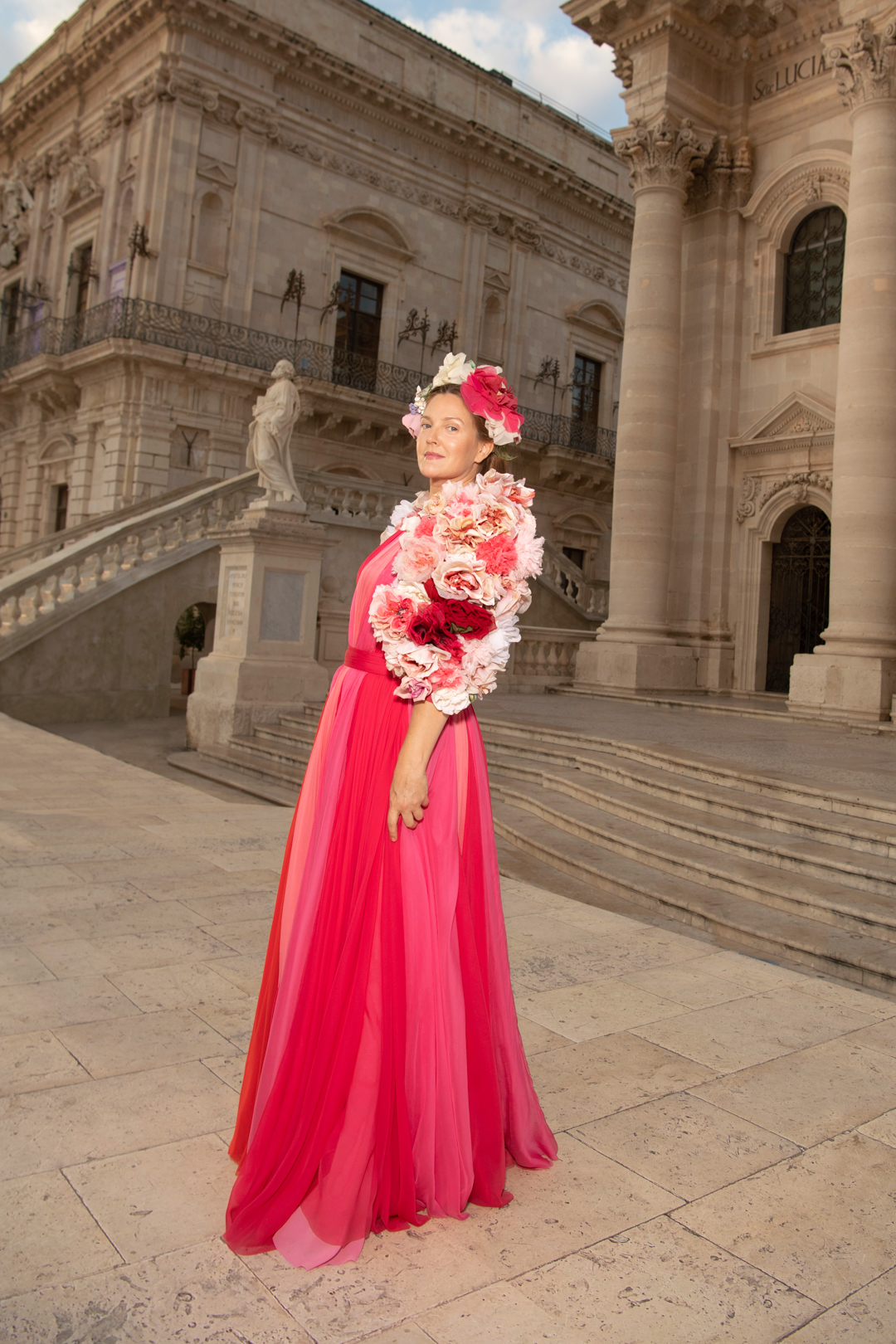 Drew Barrymore wore a pleated dress in a shaded camelia pink with embroidered handmade floral sleeves. She finished the look with a floral headband and a top handle box bag with hand painted floral detail.
Stylist: @_leeharris_
---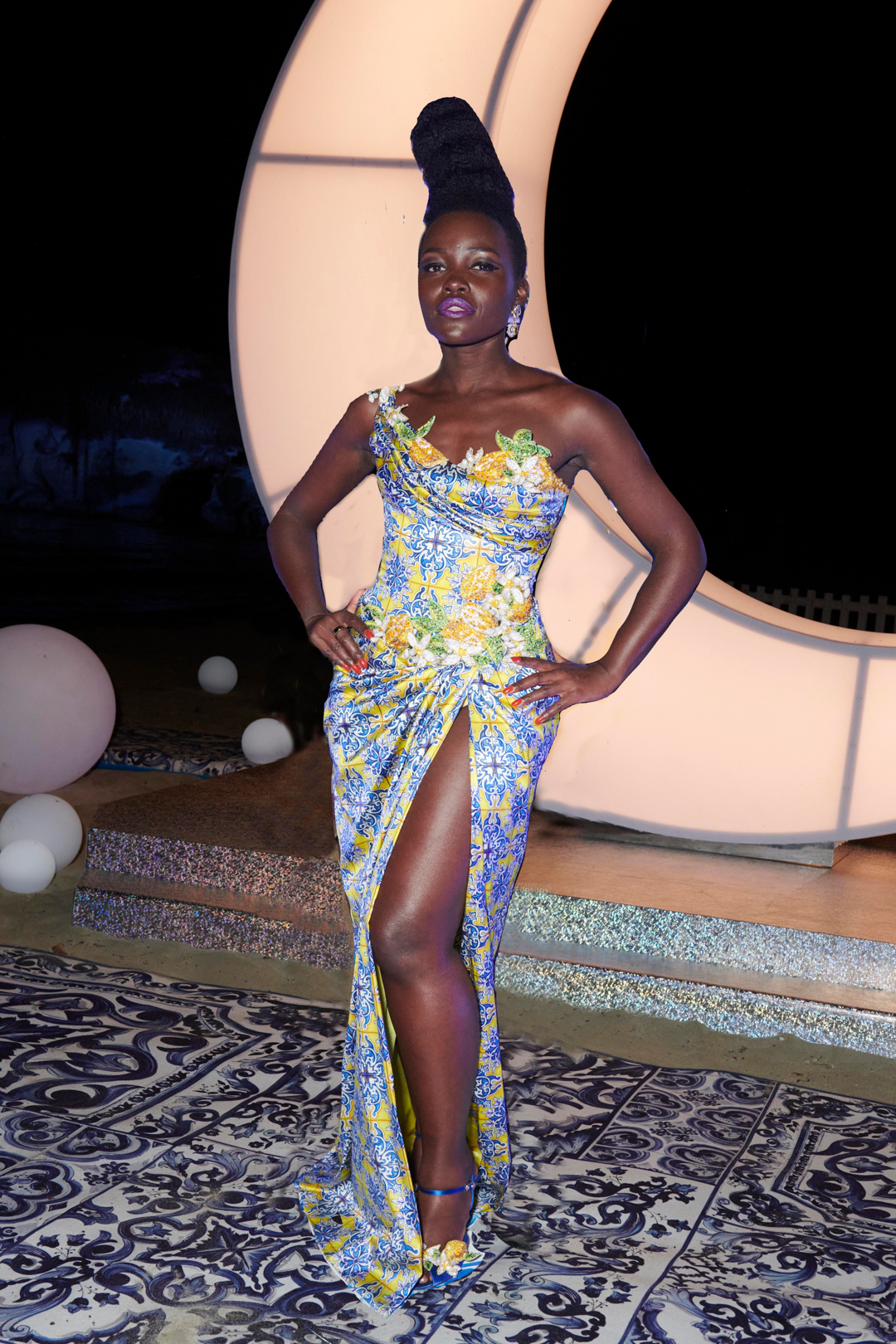 Lupita Nyong'o wore a custom draped satin dress in Maiolica print with yellow and blue tones embroidered with lemons and orange blossoms. She accessorized her look with cobalt blue satin heels with lemon embroidery. Stylist: @micaela
---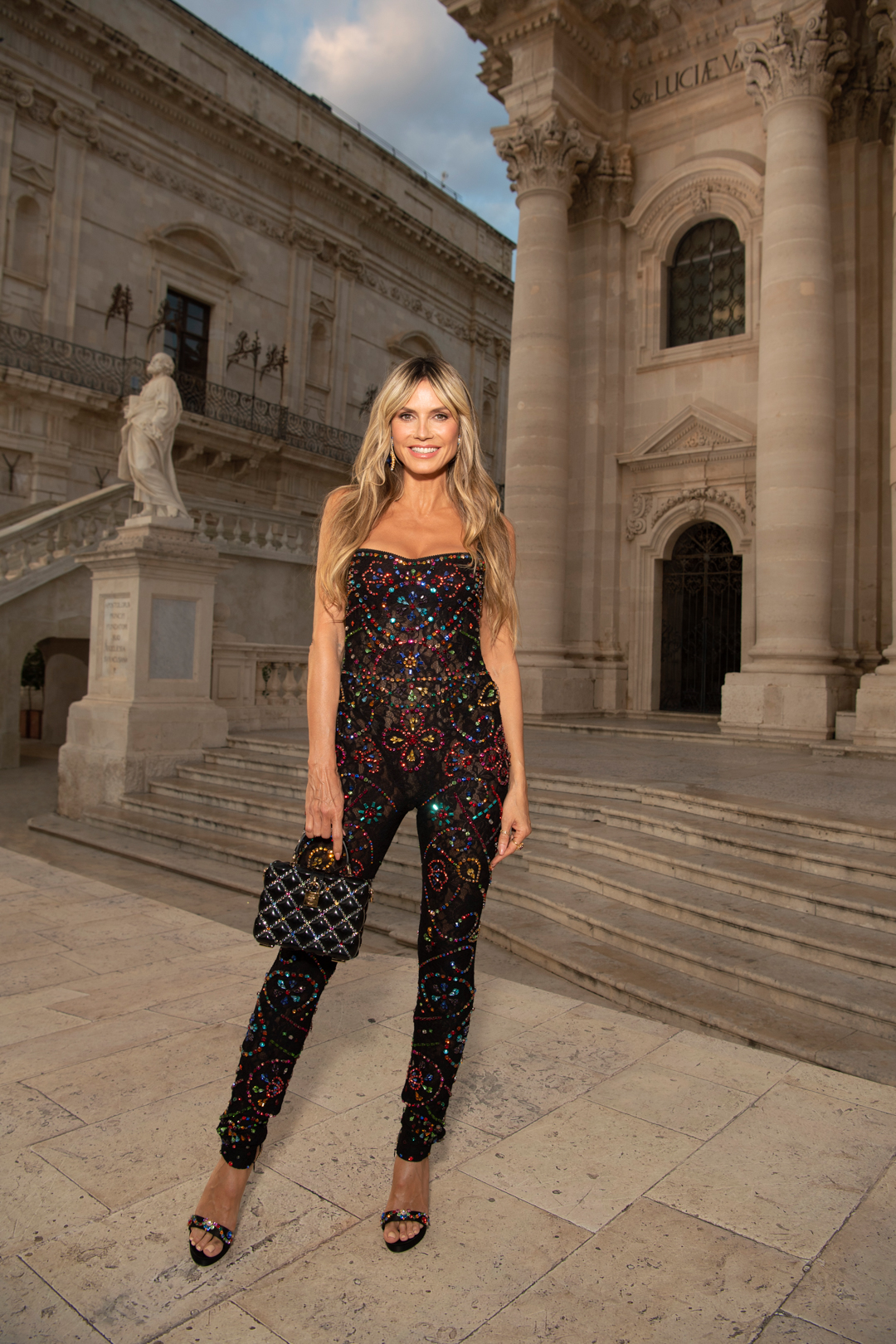 Heidi Klum wore a custom black lace jumpsuit with luminara embroidery. She completed her look with a matelassé Dolce box clutch and black glossy patent sandals.
---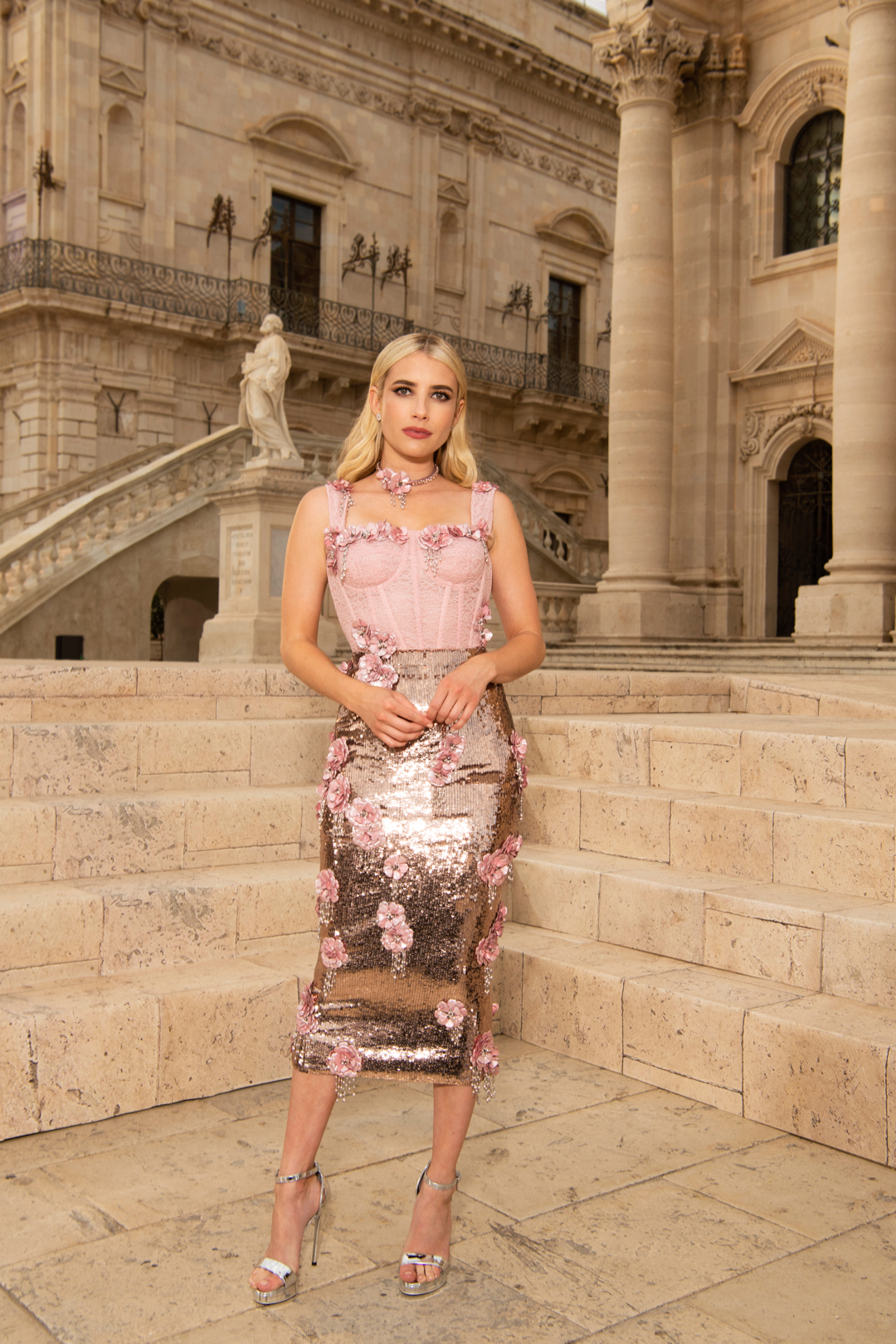 Emma Roberts wore a custom pink lace bustier top with a skirt entirely embellished with paillettes and handmade floral appliqués. She accessorized her looks with a custom floral choker and silver double platform sandals. Stylists: @elkin @britelkin @kakeykake
---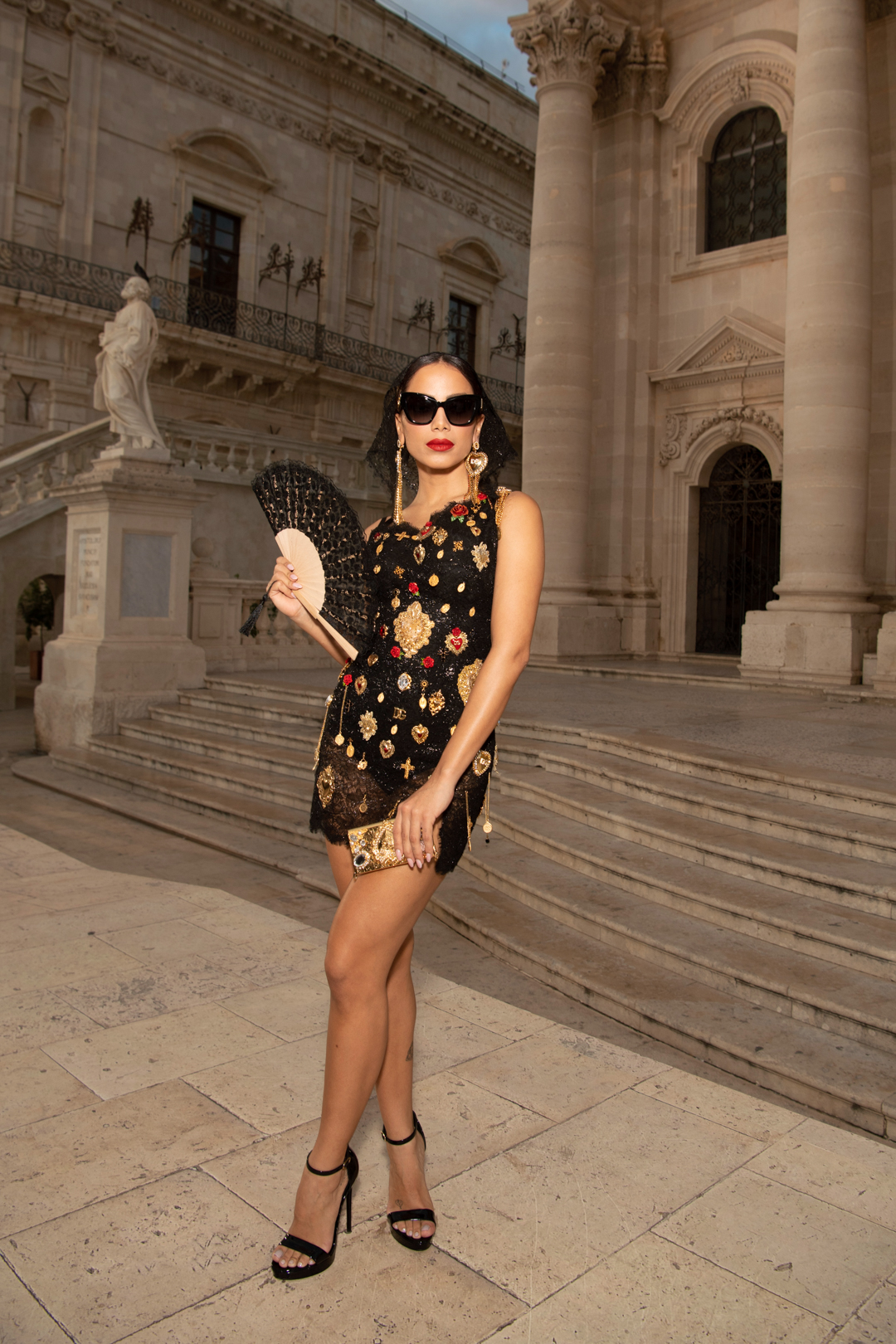 Anitta wore a black short lace dress embroidered by gold sacred heart and red stones. She accessorized her look with a black lace veil.
---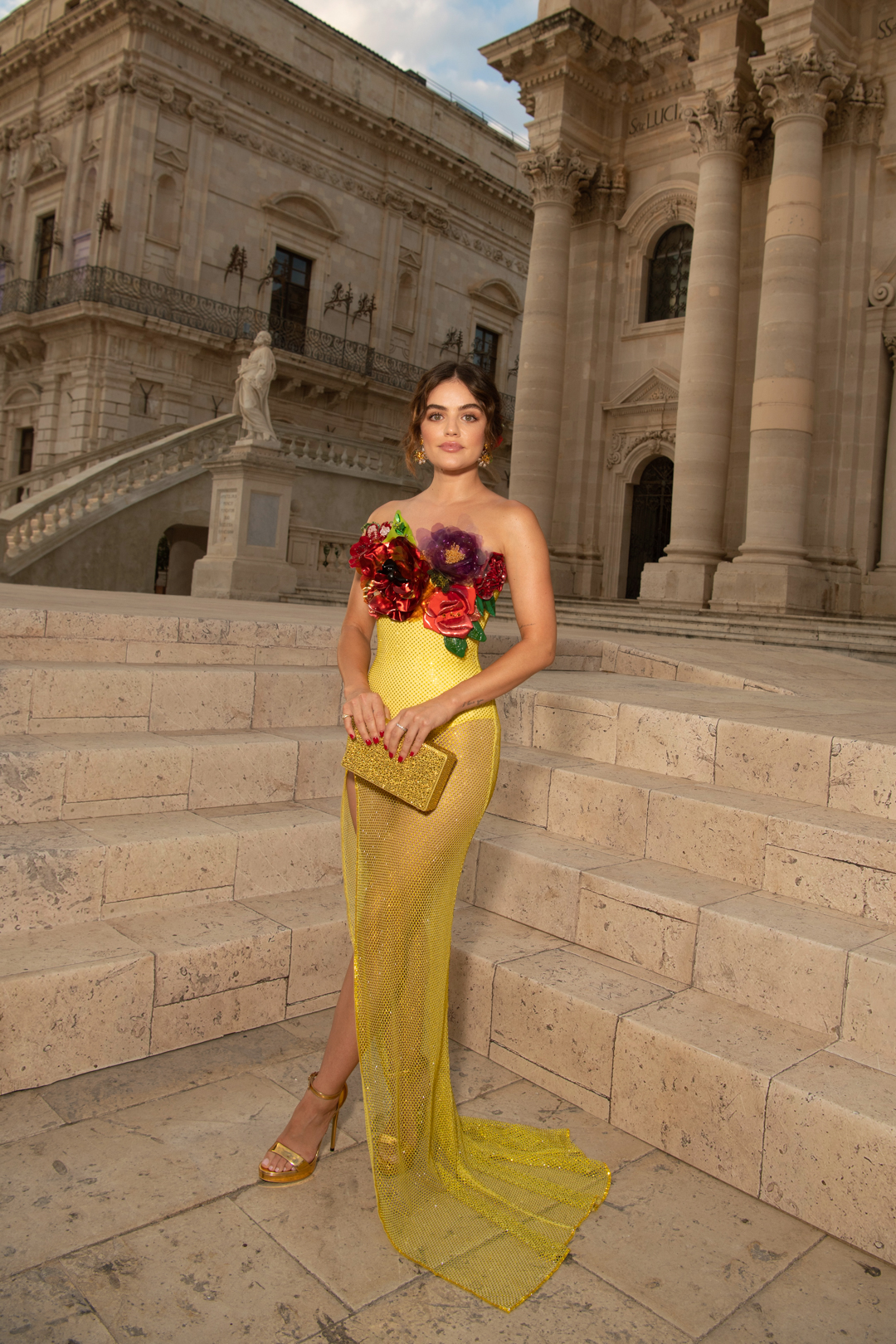 Lucy Hale wore a custom chartreuse mesh dress entirely embroidered with Swarovski crystals with handmade molded 3D flowers. She finished her look with a coordinating pave Dolce box clutch and gold double platform sandals. Stylist: @erinwalshstyle
---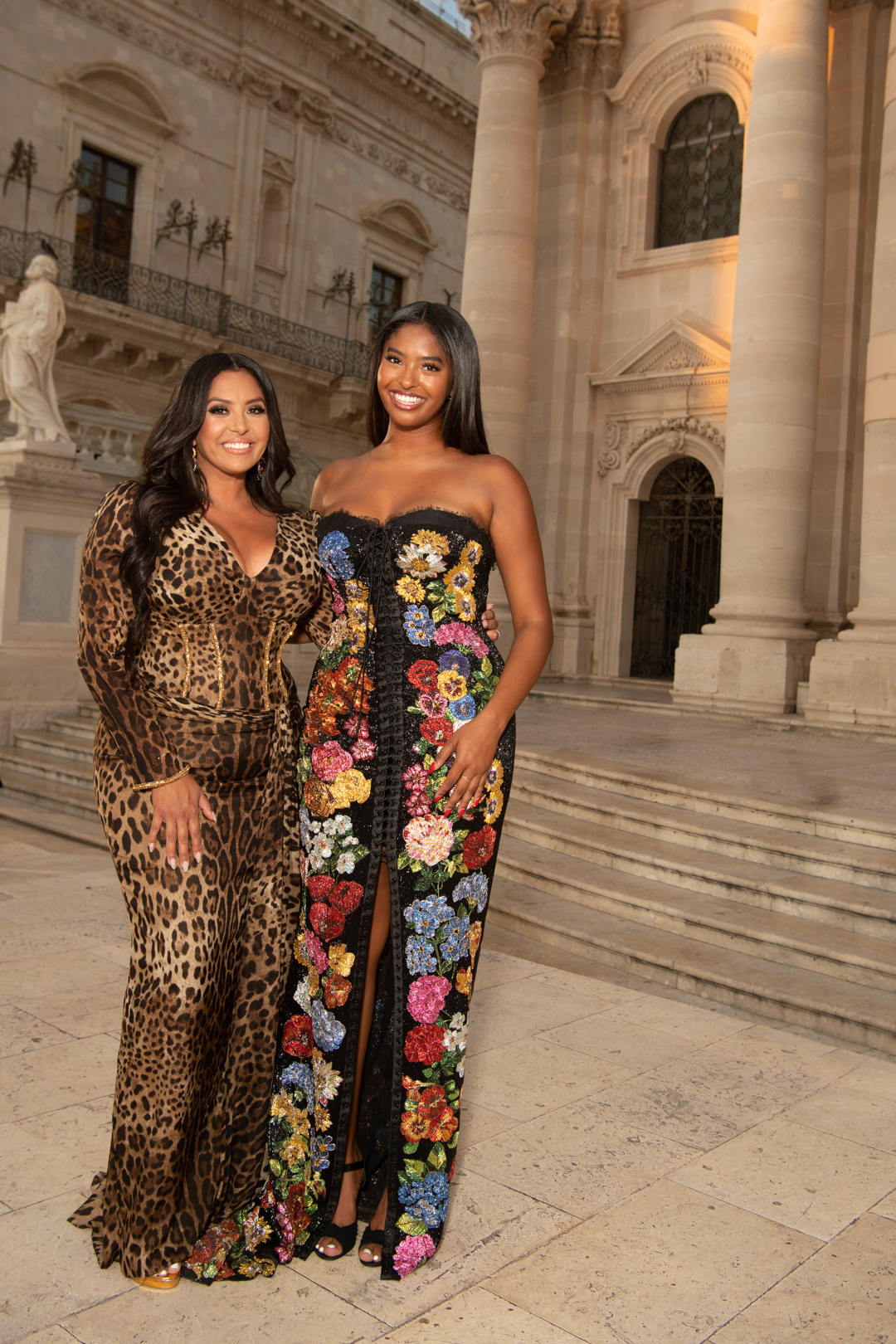 Vanessa Bryant wore a custom leopard-print draped gown with exposed boning adorned with Swarovski crystals. Her daughter, Natalia Bryant wore a custom black sequined floral embroidered gown with lace up details.
---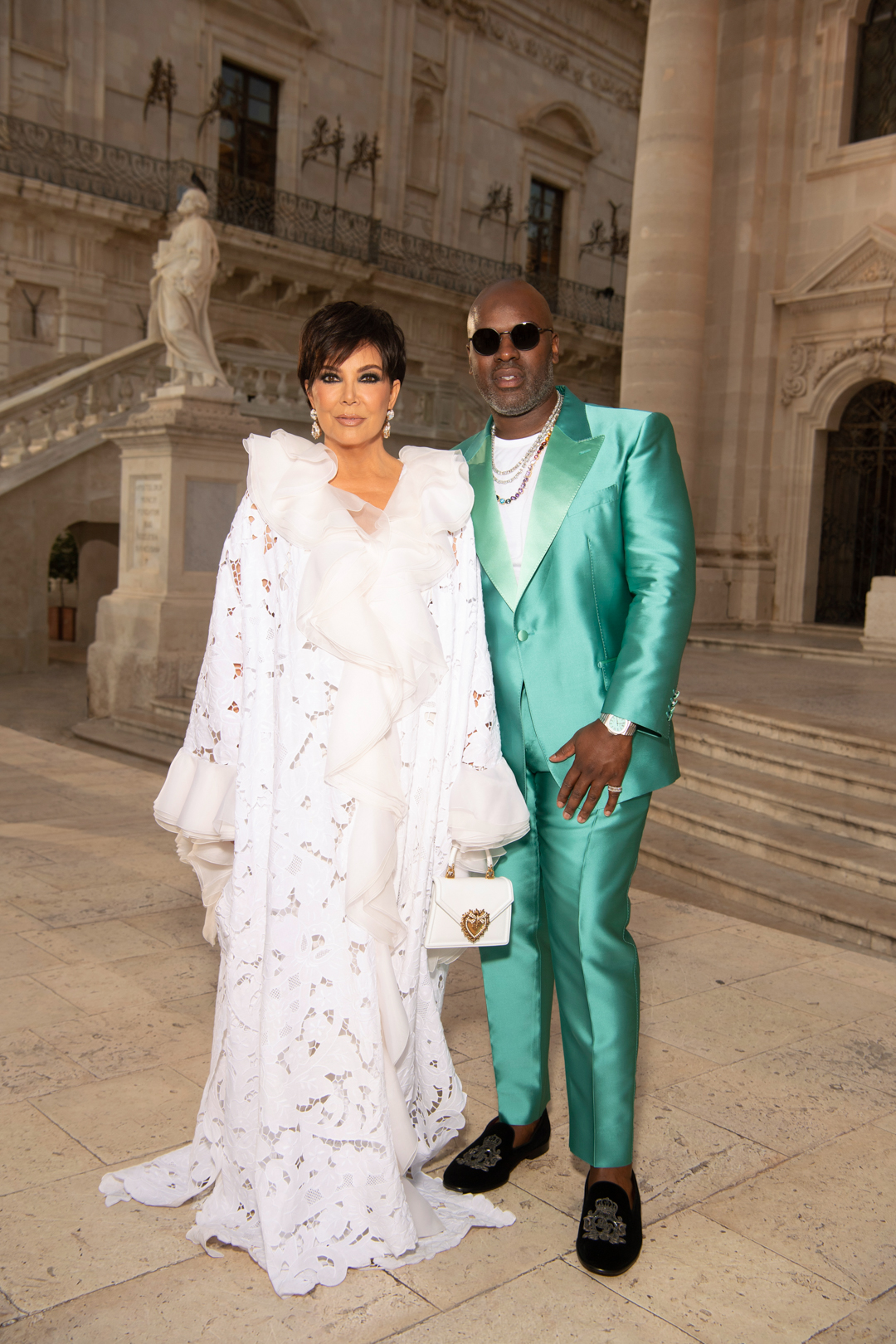 Kris Jenner wore a white Alta Moda lace evening coat. Corey Gamble wore a Sicilia-fit tuxedo suit in sea green Mikado silk. He finished his look with velvet loafers with embroidered blason.
---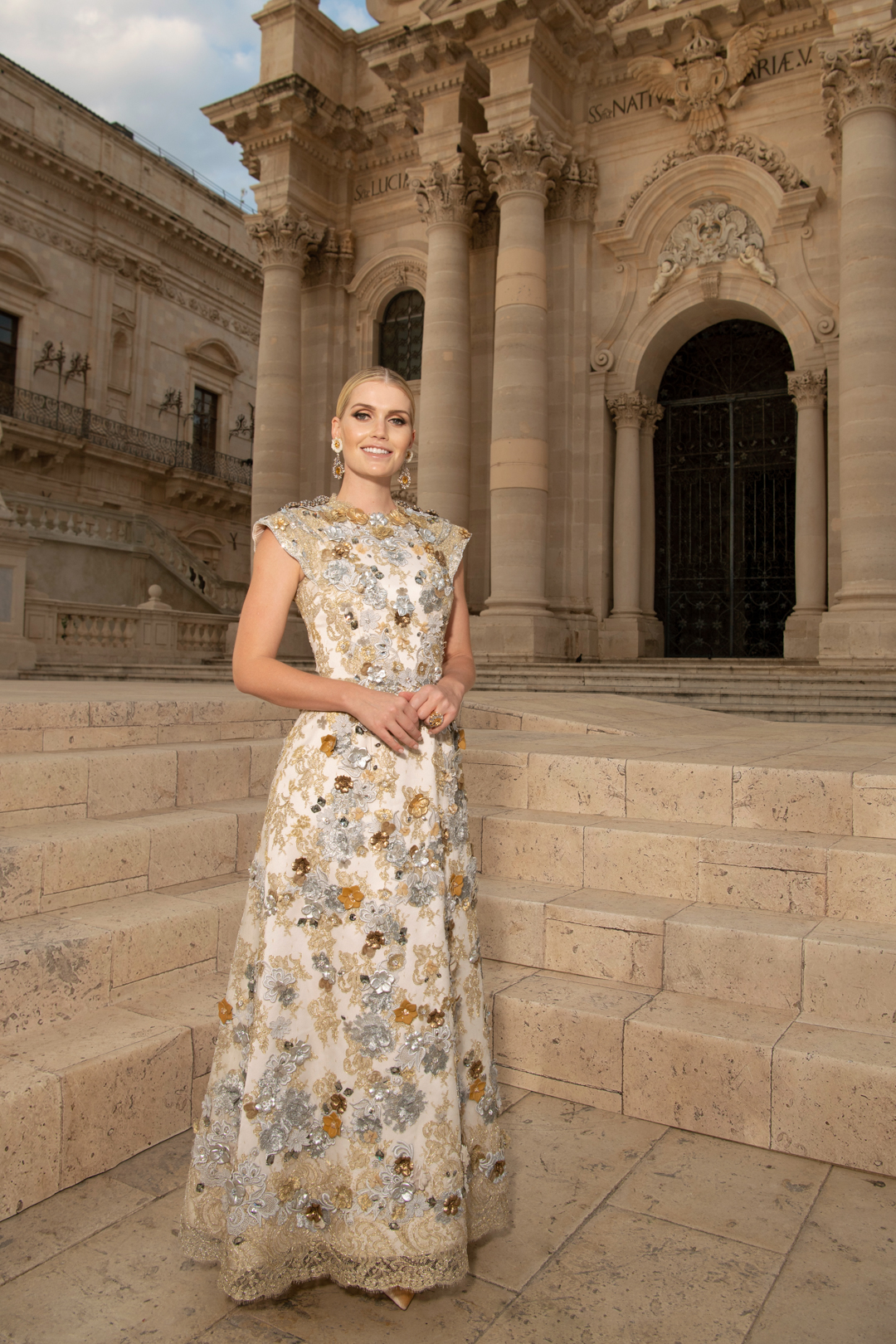 Kitty Spencer wore an ivory Alta Moda dress with floral appliqués.
---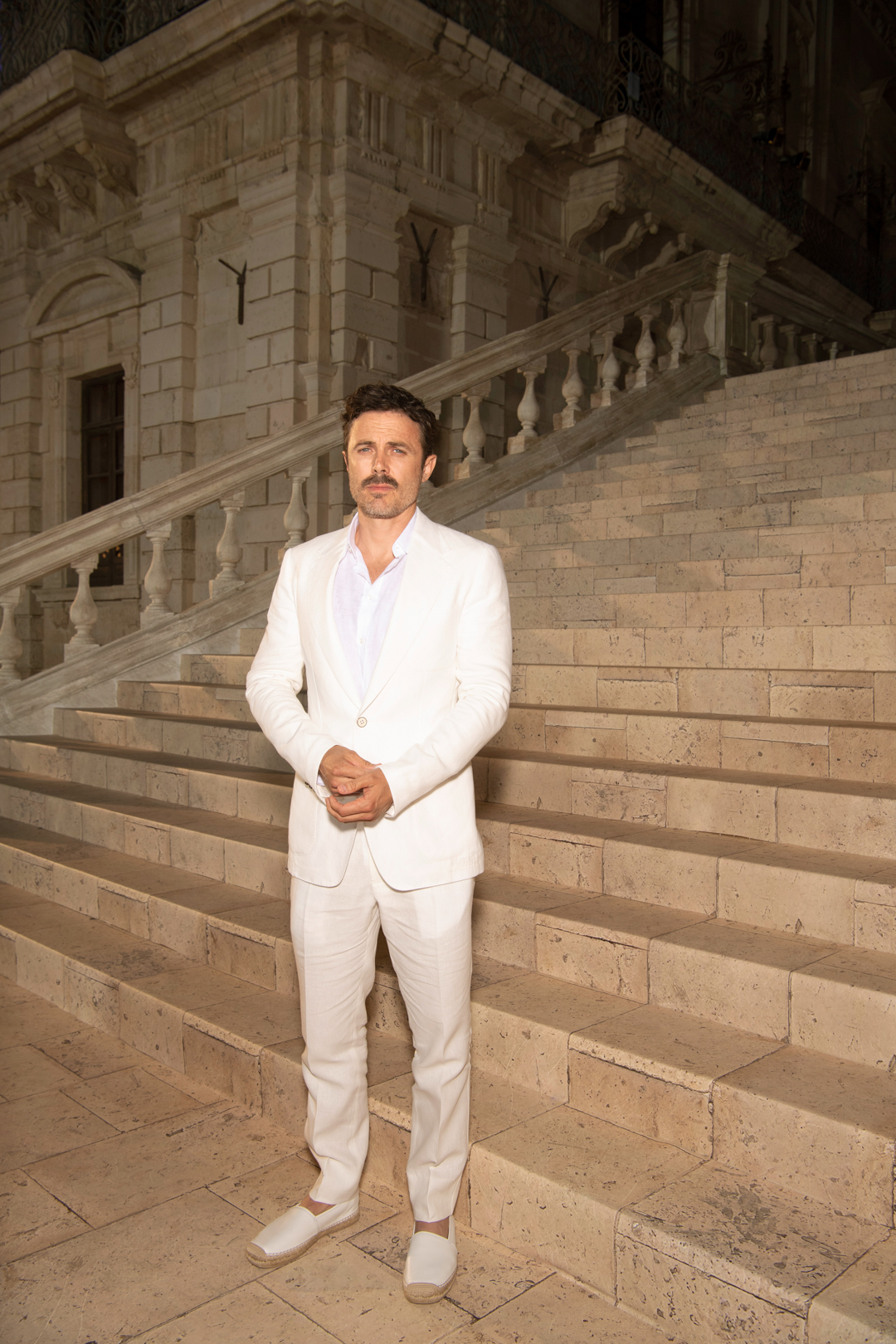 Casey Affleck wore a Taormina-fit suit in white linen paired with white calf leather espadrilles. Stylist: @ilariaurbinati
\
---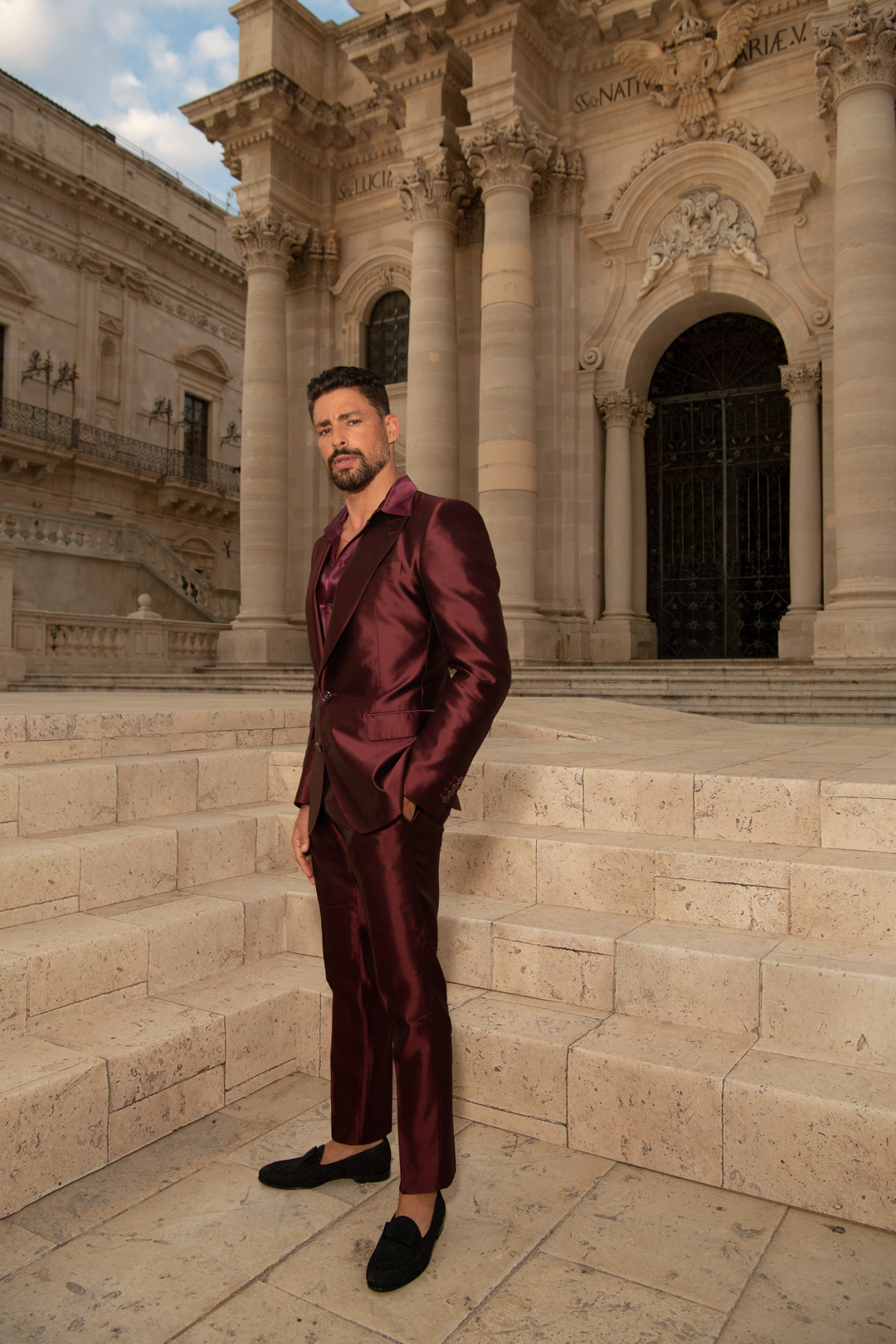 Cauã Reymond wore a Sicilia-fit suit in a Mulberry Mikado accented with gold buttons paired with a silk satin shirt in tone.
---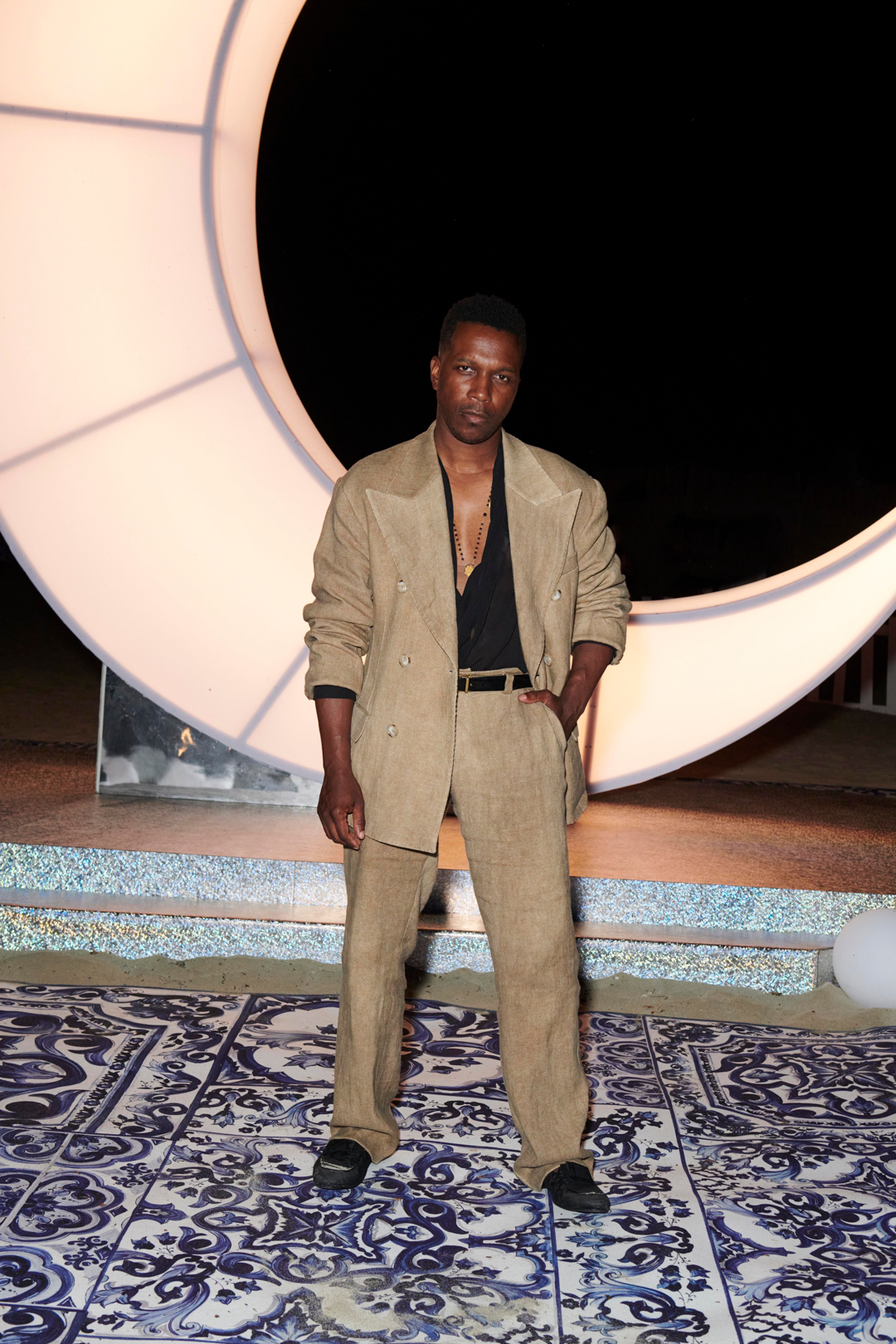 Leslie Odom Jr. wore custom beige double-breasted suit in linen and cotton sackcloth. He finished his look with a black silk shirt, silk jacquard slippers, and black and gold rosary necklace. Stylist: @avoyermagyan
---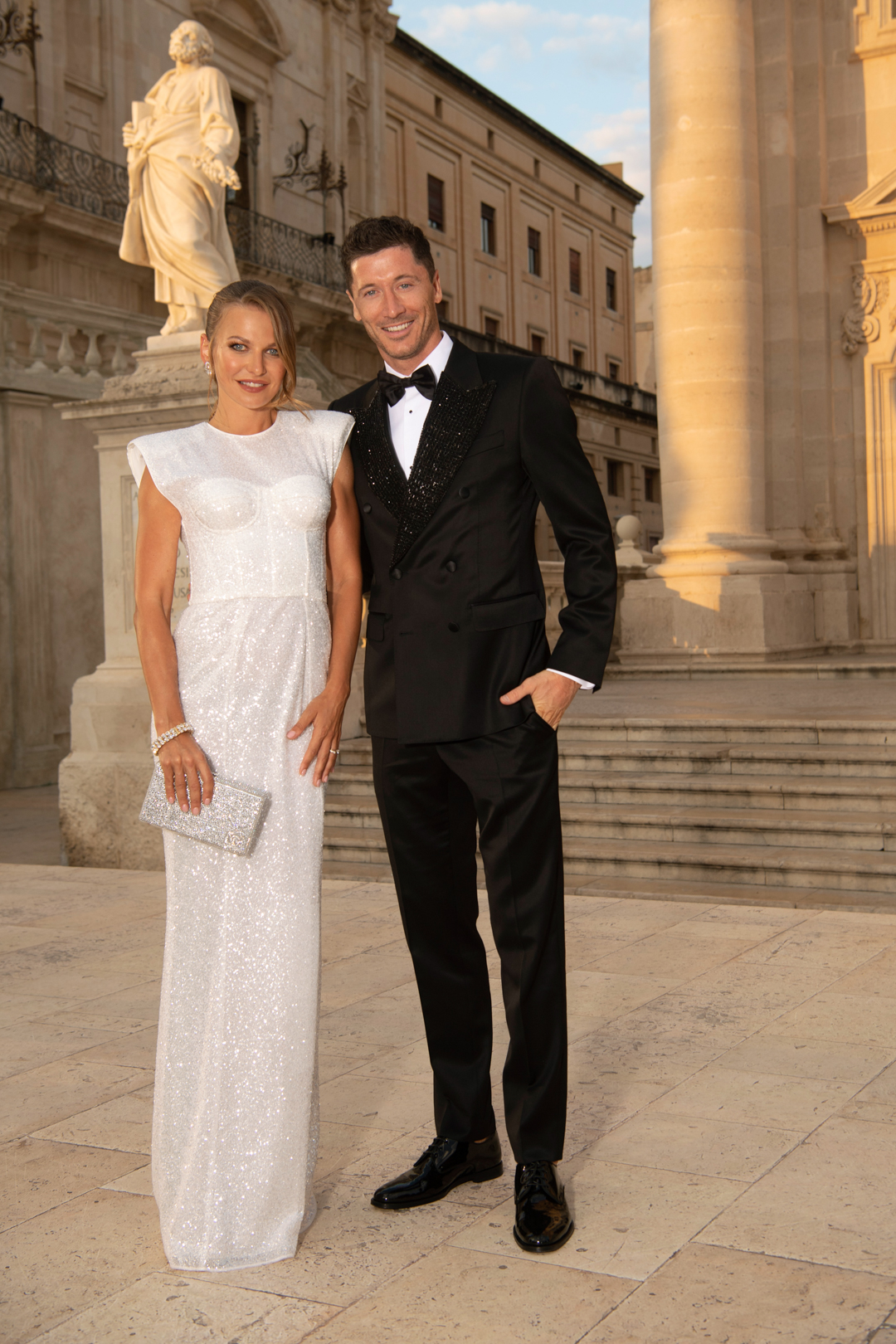 Robert Lewandowski wore a double-breasted tuxedo in an extra fine merino wool with a handmade embroidery in black glass beads. He completed the look with a white tuxedo shirt, black silk bow tie, and black glossy patent derby shoes. Stylist: Yagna Golebiewska
Anna Lewandowska wore a long silver sequined mermaid dress with bustier embellishment. She finished her look with silver and rhinestone jewels, matching DG box clutch and crystal platforms.
---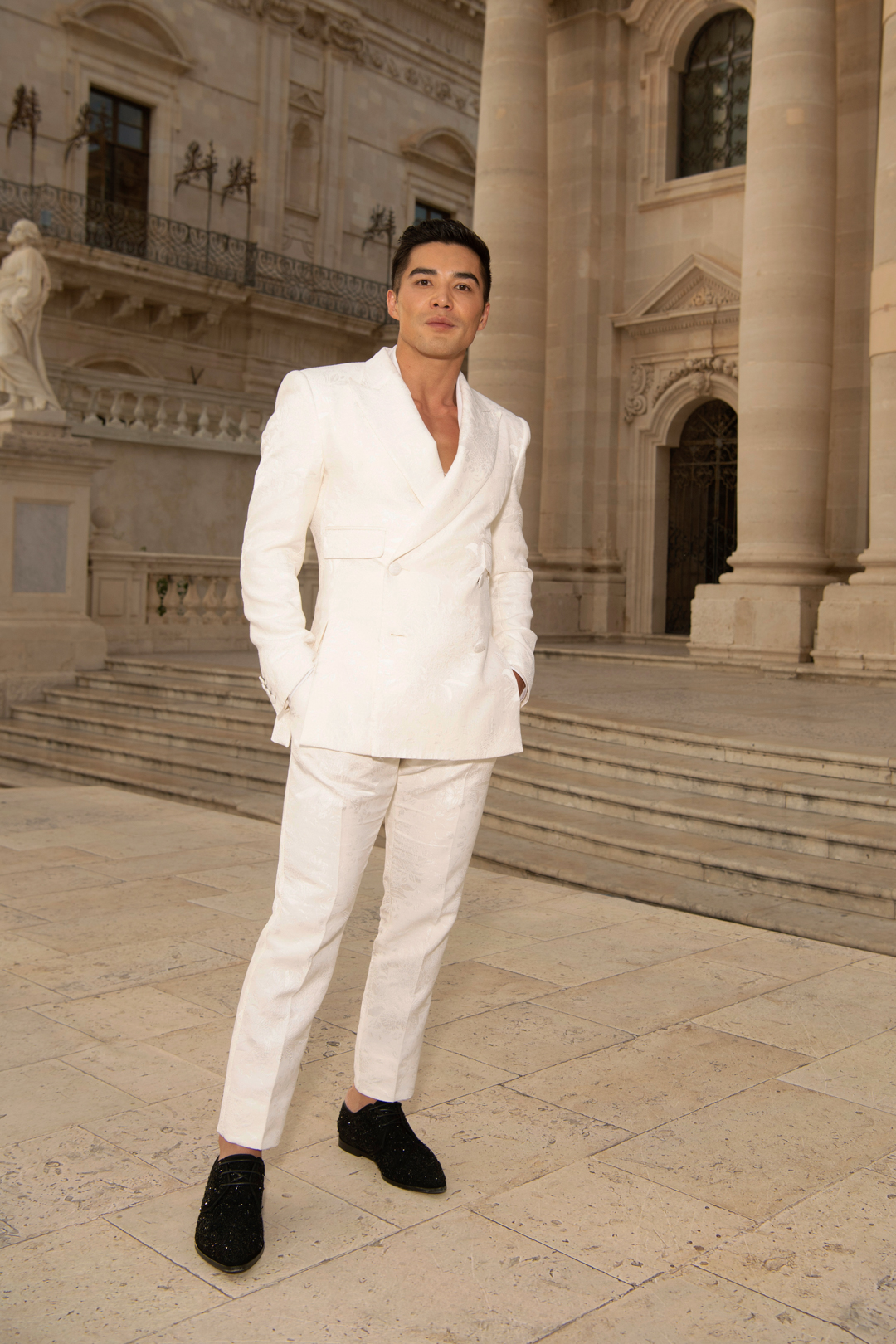 Ludi Lin wore a custom double-breasted Sicilia-fit tuxedo in a white brocade with high splits on the side. He finished the look with a crisscross shirt in crepe de chine and pointed shoes. Stylist: @sarahdarceystyle
---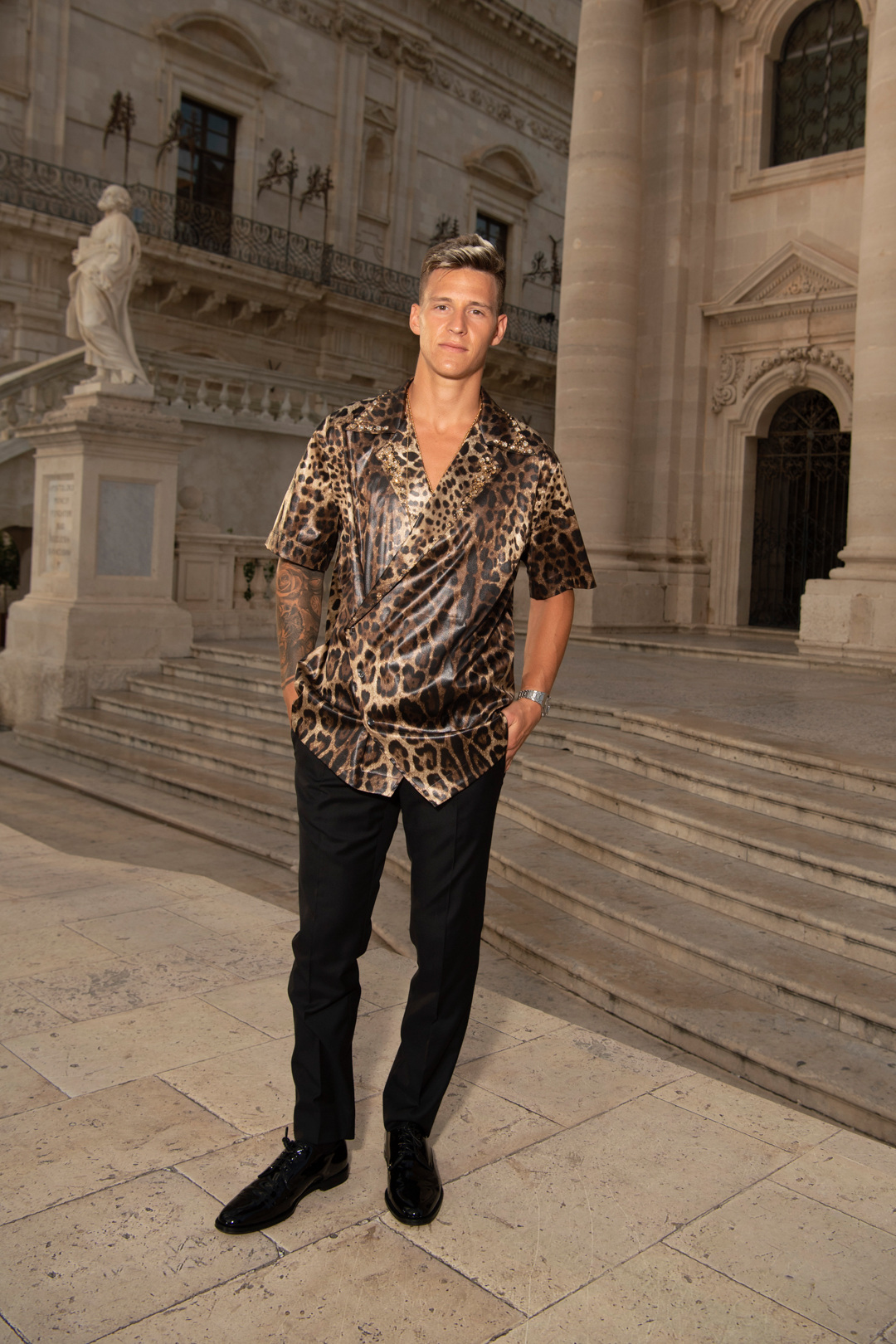 Fabio Quartararo wore a leopard asymmetrical shirt in a vitrified organza accented by gold Swarovski embroidery.