PUCCI LA GROTTA AZZURRA
---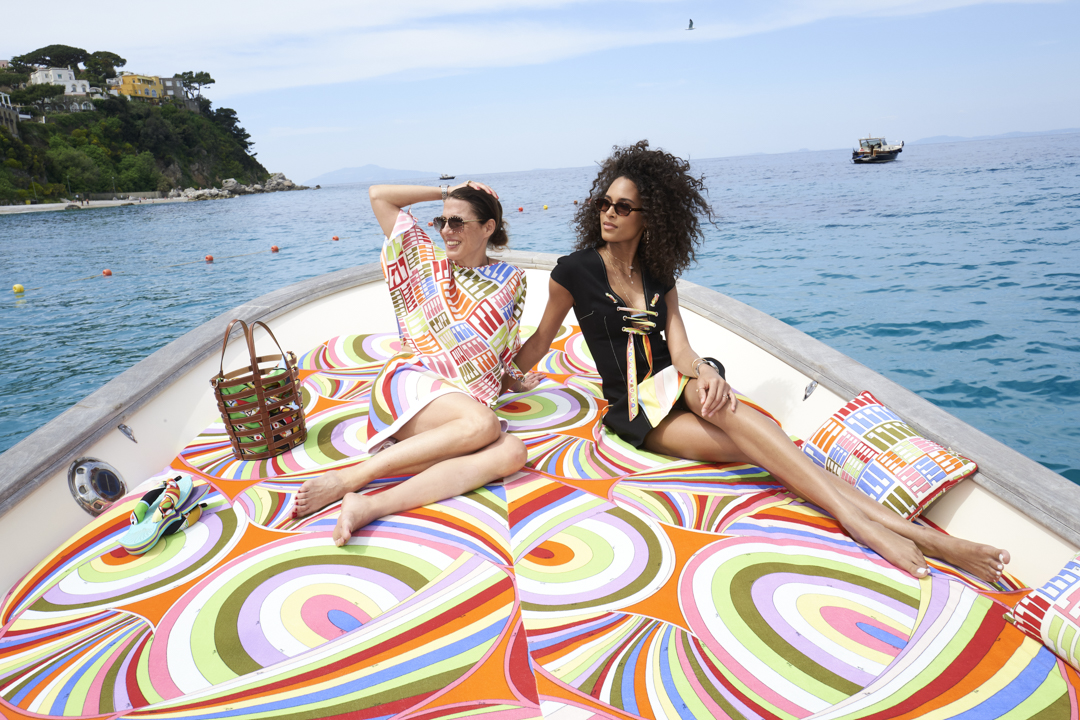 ---
"A new journey" is how Camille Miceli, Pucci's Artistic Director, defines the Florentine House's new direction. Focusing on a modern way of thinking, living and moving, well beyond style, she has reinvented an ultra-contemporary way of dressing, deeply rooted in the history of the House of Pucci.
THE SPIRIT
A nomadic, multi-seasonal, multi-destination wardrobe, to be mixed and matched as desired: Camille Miceli has coined a new vocabulary. Pucci's iconic motifs are reworked in a mix-and-match of patchwork or all-encompassing enlarged or downsized patterns... Geometrico, Girandole, Marmo, Iride, Fagiano, Rombi, Dalia or Pesci are thus transported back to the House's roots, with a new design process that respects the imperfection of the handcrafted, restoring the poetry back to the original design.
THE LOGO
The signature detail marking the new design approach is yet another nod to the House's origins : a new logo inspired by an archival 1953 "Capri Sport" label. This intertwining dual fish, shaped as an emblematic P, is woven as a nudging reminder, into a belt buckle, a pair of wedges or wooden-soled sandals, and can be incorporated into a hoodie or jumper, or transformed into a single earring.
THE COLLECTION
This first destination along the new journey, "La Grotta Azzurra", sources its inspiration from Capri. A rich haven dear to Emilio Pucci and anchored in the history of the House. Capri, as a symbol of celebration, colour, joie de vivre and Italian Dolce Vita, what better way to bring this magnificent tale to life?
Short or long caftans and kimonos are made of supple, fluid materials: cotton voile, silk chiffon, drill, stretch jerseys, towelling... It's the ultimate simplicity in sophistication. Foulard mini-skirts dance, shorts and trousers frolic with extra-large flower patterns; fringes and ribbons are pulled through metal eyelets, underlining the appearance of an ankle, the curvature of a back, neckline, and form.
Camille Miceli transcends the boundaries of gender: fleece jumpers, silk-twill sets or Italian friulane are effortlessly juxtaposed in a gender-fluid wardrobe proposal.
A similar joyful and highly desirable approach is maintained for accessories: woven straw or dual-material canvas tote bags, made from upcycled vintage scarves, bold hoops, towering and colourful wedge sandals, scarf hats and fishy flip-flops... And since elegance is a form of play — backgammon, beach cushions and even playing cards are integral to the collection.
A NEW LUXURY
The new Pucci collection is designed for the timeless simplicity of a fleeting moment that echoes the world we now live in: Camille Miceli's vision isn't deployed across seasons, but instead, it endures in the immediacy of the "see now, buy now", using monthly "drops", available in stores and online.
The House of Pucci is thus anchored in the liveliness of the moment and reconciles our desire for ultra-connectivity with the luxurious and nonchalant allure of Italian know-how.