601
BOTTEGA VENETA PRESENTS ITS HOME COLLECTION DURING SALONE DEL MOBILE 2018
The new Bottega Veneta Home Collection, designed by Creative Director Tomas Maier, is presented during Salone del Mobile in Milan. While preserving its long-standing ideals of craftsmanship and a harmonious balance of texture, design and functionality, the collection features playful new finishes on iconic pieces and a brighter, more colorful palette. "I wanted to show something very different from what I did two years ago, which was muted and graphic" says Maier. "I like to give new ideas of how my client could create a living space." Maier also further develops his collaboration with Osanna Visconti di Modrone in new lighting pieces.
A COLLABORATION CONTINUES
This collection marks the second collaboration between Creative Director Tomas Maier and Italian designer Osanna Visconti di Modrone, following a set of bronze tables presented in 2016. There are three cylindrical lighting pieces, including a dramatic large-scale chandelier which made its debut earlier this year at the opening of the brand's Maison store on Madison Avenue in New York. Rounding out the selection is a slim table lamp and hanging lamp; the latter can be used solo or in small groupings. All are made with a lost-wax casting technique, typically used in sculpture, which creates an exquisitely tactile intrecciato texture on the bronze.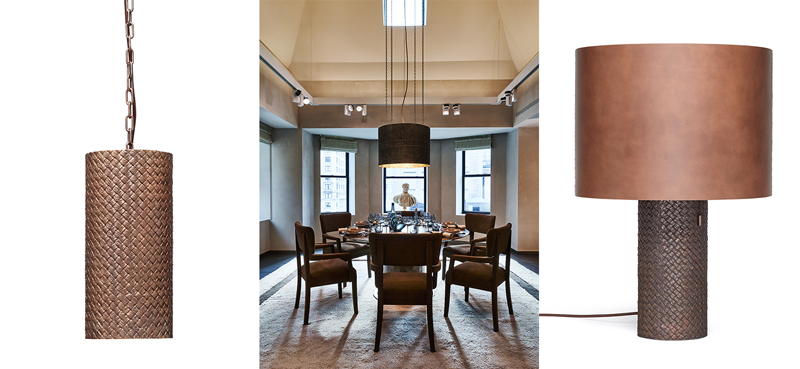 ICONIC STYLES, REINVENTED
There is a fresh sense of playfulness to Maier's evolution of iconic Home styles. A new addition to the Rudi seating family, the Rudi Fringe is made with a woven intrecciato border along the base that falls into a passementerie-inspired fringe. "That traditional look has been out of style for so long," says Maier. "We wanted to revive the idea but in a new way." The Camp Bed and Double Camp Stool are now bold and graphic in black-and-white contrast intrecciato. The architectural metal 8-Arches table also has a new look, with a striking black-and-white marble top, instead of the typical Oak or travertine. In the porcelain collection, Maier introduces a delicate new hand-painted butterfly motif. Placed seemingly at random, some butterflies are lightly sketched while others are fully realized. The effect is charming and individualistic.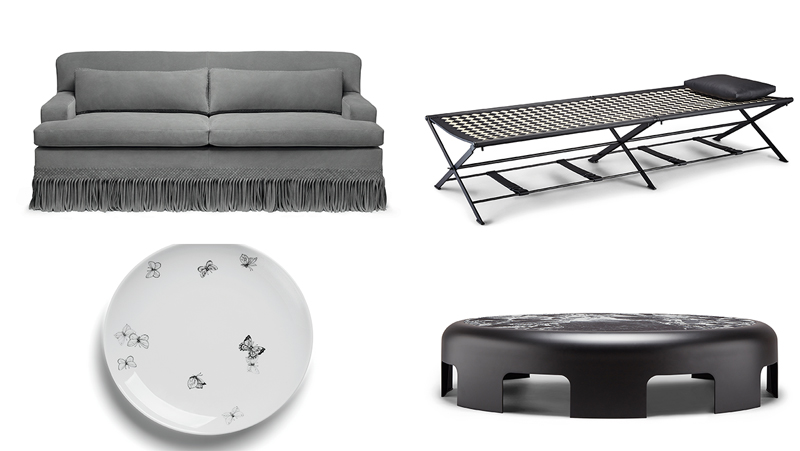 INTRODUCING NEW FUNCTIONALITY
This season sees the debut of several pieces with new functions. The BV Tre is Bottega Veneta's first true modular seating family. It consists of three pieces: a Corner Seat, a Single Seat and a Pouf, which can be configured in any way to fit a client's needs. The BV Tre has a distinctly relaxed sensibility; it sits lower than the Tassello and Rudi families but measures deeper and wider. The rectangular dining table is another novelty. It's made of a richly hued red travertine which rests on a center base, like the circular version. "I hate dining table legs," says Maier. "You always sit down and hit your knee. That's why I like to design dining room tables with no legs at all." Also new is the Tassello dining chair, which belongs to the soft and streamlined upholstered seating family. The new Two-Drawer desk in pale Doe-colored oak is made with the exquisite sculpted bronze handles used in the classic Six-Drawer Chest. It is now the largest-scale desk in the collection.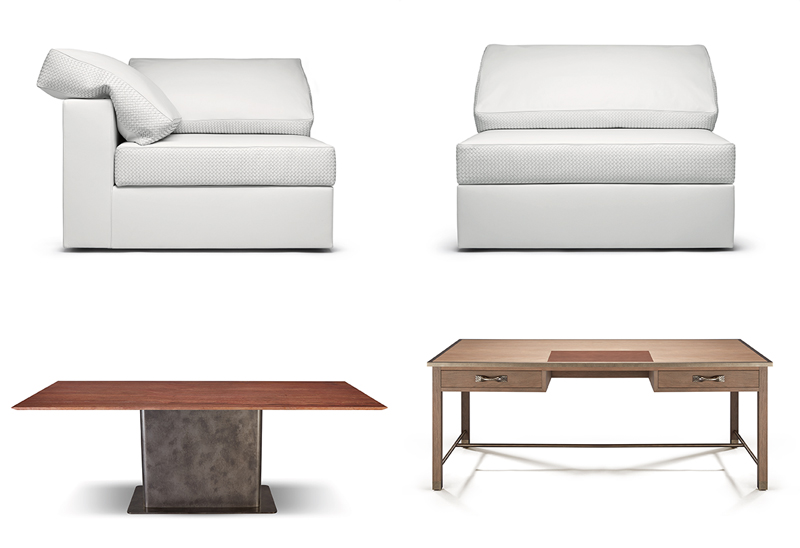 AN UNEXPECTED PALETTE
The usually muted, discreet palette of the Home Collection is taking a lighter turn with the elements in pure white as well as a range of softer, more romantic pastels. The Murano lamp is made in glossy white glass, bringing a luminous look to an iconic lighting piece. The Floating Marble Coffee Table also comes in white. The new BV Tre seating family is presented in Mist, a bright white. The BV Tre and classic seating families like the Tassello and Rudi are available in new colors such as Antique Rose, a dusty pink; Artichoke, a washed green; and Doe, a delicately pale grey. The rectangular dining table is brighter in red travertine; and the new Two-Drawer desk is presented in pale Doe oak.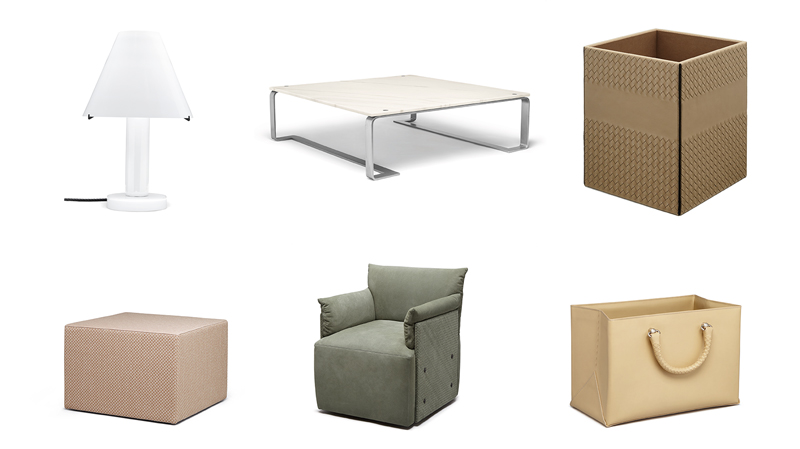 BOTTEGA VENETA'S ART OF LIVING
An expression of the Italian art of living that is essential to the culture of Bottega Veneta, the new collection is displayed within the Home boutique on Via Borgospesso, housed in Palazzo Gallarati Scotti, an 18th century palazzo in the heart of Milan. Maier curated a selection of contemporary artwork from gallery Robilant + Voena, including pieces from Agostino Bonalumi, Alberto Burri, Mimmo Rotella and Pietro Consagra. Sitting amid the historical frescoes, the artwork and furniture create an eclectic intersection of tradition and innovation that is essential to Bottega Veneta.
ABOUT THE HOME COLLECTION
The Home Collection has organically evolved from Tomas Maier's first design, a single bench he created alongside Bottega Veneta's skilled artisans, in 2006. Since then, the house has developed and presented full collections of furniture and home accessories, many of which are made with esteemed manufacturers such as Murano artisans for glassware, Koenigliche Porzellan-Manufaktur Berlin for porcelain and Poltrona Frau for seating. In 2015, Bottega Veneta established a dedicated furniture Atelier in the Veneto region where the brand was founded. This year, the brand introduced a new retail home concept called The Apartment at the Maison store in New York. The Apartment offers the biggest selection of Bottega Veneta furniture and home accessories in the United States, all displayed in a residential setting, complete with a curated selection of books and artwork.