Hermès Collections for the home 2022
Lightness
The quest for lightness, like a challenge to gravity, is incarnated by the creation of objects for the home, showcased in four structures at Milan Design Week 2022. These constructions, in the shape of water towers, are light despite their monumental proportions; made of wood and covered with transluscent coloured paper, they radiate light. Inside, each object expresses know‑how that draws power from precision.
For the first time, textiles are the underlying theme running through a home collection. Five creations form the fabric of this manifesto for lightness. They are all made from cashmere, one of the house's favourite materials. This infinitely delicate natural fibre combines a taut hand with bright colours.
Textiles explore different manufacturing techniques: strips of cashmere form the design of ethereal plaids; squares woven and dyed by hand make up a great patchwork of shimmering colours; geometric shapes assembled using a relinking technique evoke stained-glass windows; a large, quilted bed cover brings colours, patchwork and traditional quilting technique into dialogue.
Objects, porcelain and furniture assert their singularity: a cut and folded sheet of leather with hand-painted decoration becomes a centrepiece; porcelain plates reflect sunlight; a canework seat affords a chair as much delicacy as it does strength. Lightness of line produces timeless style, as these creations demonstrate. Our perception changes as light plays over them when backlit against the scenographic structures: poetic giants and anchoring points for these small miracles of equilibrium.
Surface
Bed cover
The Surface bed cover is constructed from remarkable cashmere hexagons that combine patchwork with the precision of quilting, crafts in which American artist Carson Converse is an expert.
100% cashmere, quilted and patchworked 220 × 240 cm Design: Gianpaolo Pagni
Construction
Plaid
The graphic dimension of the Construction plaid, inspired by Gianpaolo Pagni's designs, is expressed directly through the fabric. Cashmere panels are assembled by relinking, a technique borrowed from couture.
100% cashmere, assembled by relinking 155 × 195 cm Design: Gianpaolo Pagni
H Pythagore
Plaid
This subtle interplay of textures, materials and colours continues with H Pythagore, an assembly of hand-woven and hand-dyed cashmere squares.
100% cashmere, spun, woven and dyed by hand, patchwork stitching 168 × 210 cm Creation: Hermès Studio
H Tartan and H Tissage
Plaids
H Tartan and H Tissage are two explorations of stitching on a cashmere weave of rare finesse. These textiles with surprisingly dense geometric patterns and lines are appealingly tactile and bring lightness to the home.
H Tartan 100% cashmere Hand-woven and hand‑dyed cashmere appliqué 150 × 220 cm Creation: Hermès Studio
H Tissage 100% cashmere Hand-woven and hand‑dyed cashmere appliqué 150 × 220 cm Design: Fanette Mellier
Pli'H
Centrepieces
Who would guess that this leather sheet conceals a centrepiece? It is carefully cut and folded, a few essential points discreetly joined together and some elemental patterns are applied freehand with a brush
Pli'H Bridle leather sheet sewn and painted by hand L 33 × w 33 × h 5 cm Creation: Hermès Studio
Pli'H Bridle leather sheet sewn and painted by hand Ø 36 × h 4 cm Creation: Hermès Studio
Gazette
Wall-mounted organiser
Crafted from sheets of vert-olive and rouge capucine leather, this original wall‑mounted organiser is elegantly adorned with slightly domed and hand‑stitched tabs borrowed from the Kelly bag. Where storage meets contemplation, there is harmony.
Clémence bullcalf in vert-olive and Evercolor calfskin in rouge capucine 60 × 42.5 cm Creation: Hermès Studio
Oseraie Color
Basket
---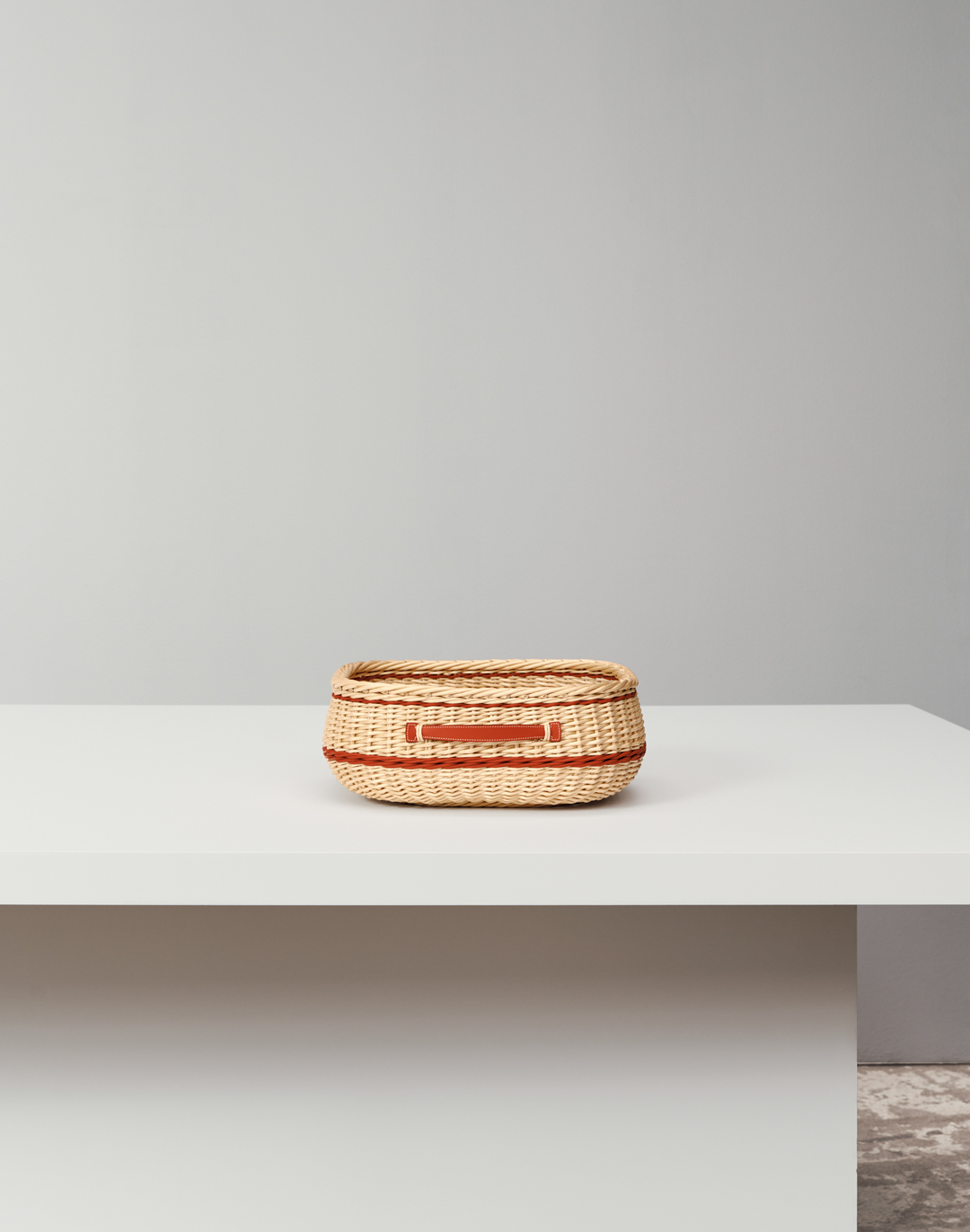 ---
Find the right balance between the product and the colour. Seek lightness in the design of the object. Tame a simple material and enrich it with innovative craftsmanship. Weave a discreet yet luminous leather cord into the wicker.
Wicker and cord in terre battue Swift calfskin woven by hand, Swift calfskin handles. L 34 × w 28 × h 13 cm Creation: Hermès Studio
Coulisse
T-shaped table lamp
---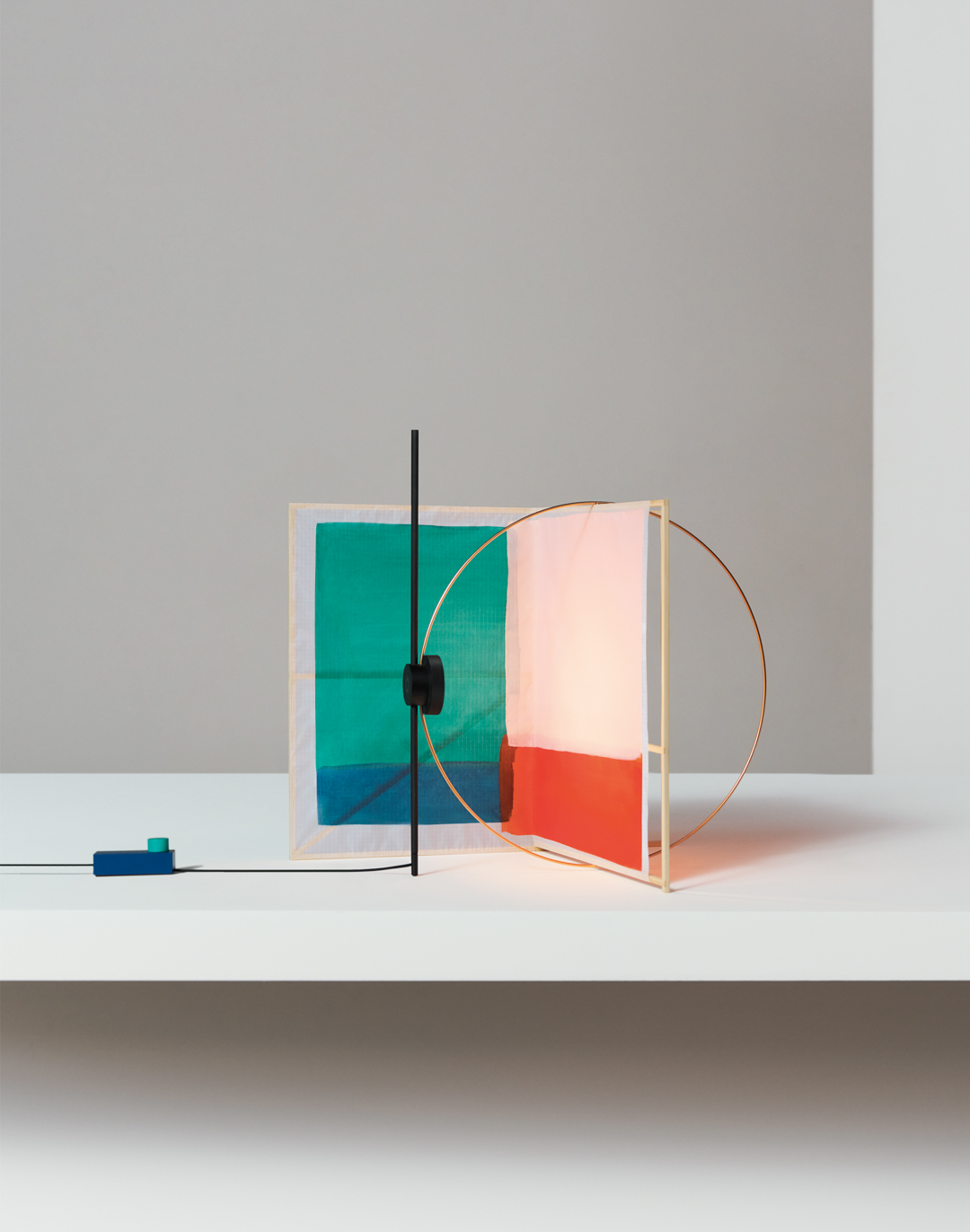 ---
A simple bamboo frame covered with parachute fabric, embraced by a steel circle from which soft light emanates. The beauty of this lamp, created by Tomás Alonso, lies in its agile forms and the emphasis it places on the interplay of space and lightness.
Hand-painted parachute fabric, bamboo frame, and binding circle in copper-plated steel. LED light with dimmer. L 39 × w 29 × h 37 cm Creation: Tomás Alonso
Oria
Chair
---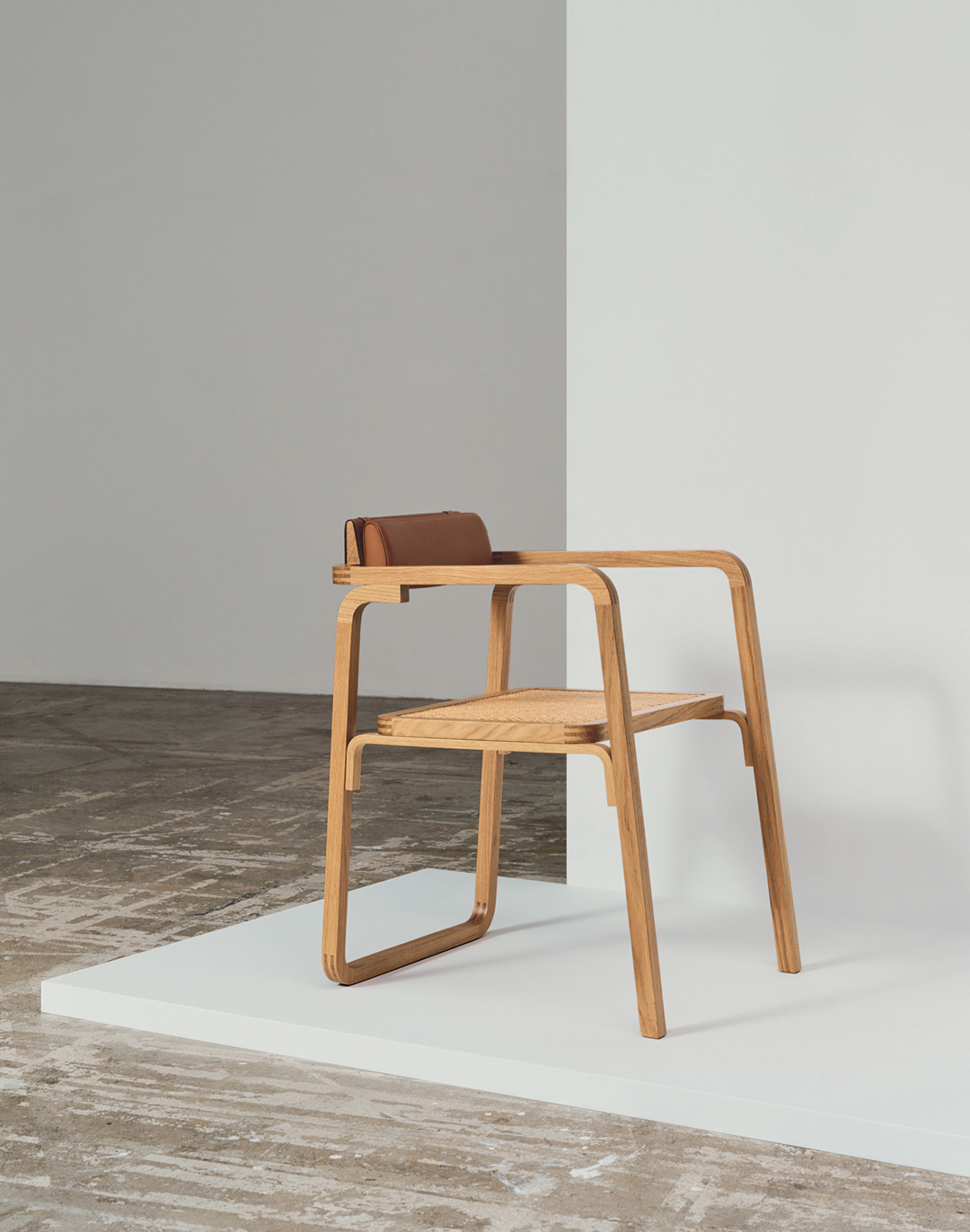 ---
The Oria chair, designed by architect Rafael Moneo, exudes balance and harmony, transcended by the comfort of the materials-oak, leather, canework-and the know-how of the house's artisans.
Oak frame with H bullcalf backrest and canework seat L 52.5 × h 75 × d 59.5 cm Creation: Rafael Moneo
Karumi
Stool
---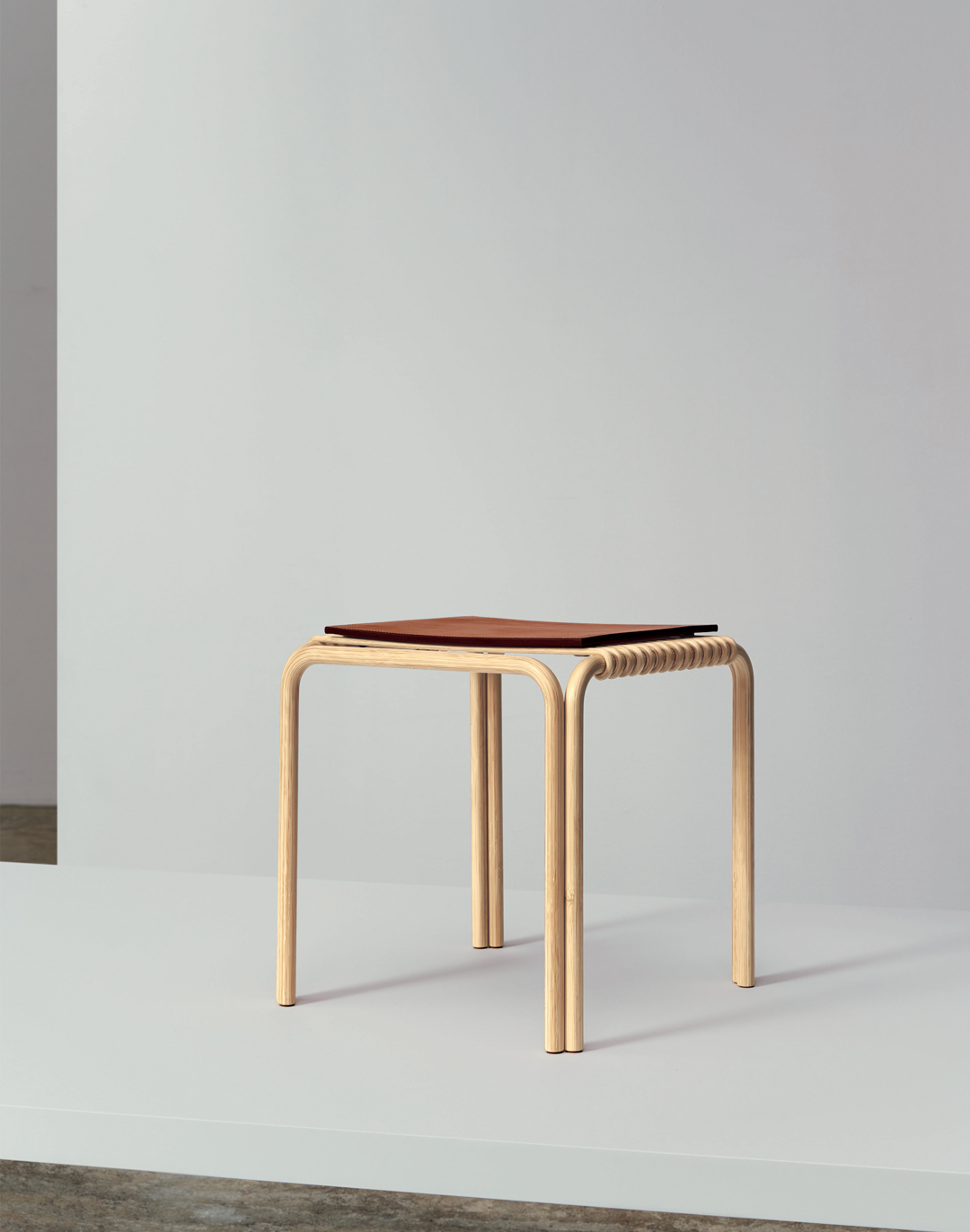 ---
In Japan, karumi means simplicity, lightness and purity, like the sleek, unbroken lines of this graceful stool designed by Portuguese architect Alvaro Siza. Its structure and seat, in curved bamboo and carbon fibre, combine lightness with strength.
Bamboo and removable pad in H bullcalf L 37.9 × w 37.9 × h 40.7 cm Creation: Alvaro Siza
Soleil d'Hermès
Porcelain service
---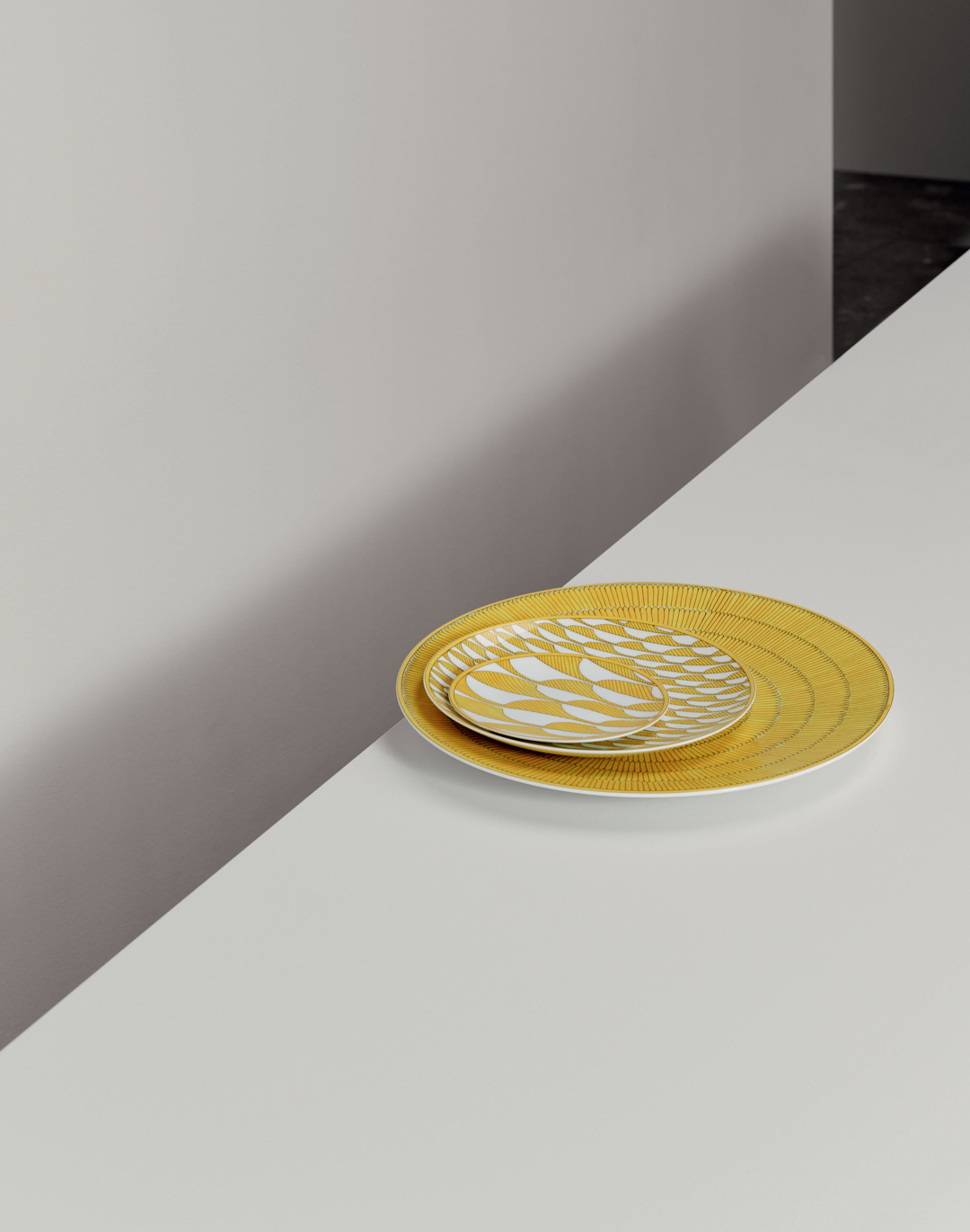 ---
Twenty-four pieces in white porcelain illuminated with a deep, shaded yellow and outlined in delicate black, like a faint shadow. The graphic motifs of stylised palm trees by designer Arielle de Brichambaut echo the precision of the artisans' gesture, creating harmony between the material, the colour and the design.
Presentation plate ø 32 cm Dessert plate ø 21cm Bread and butter plate ø 14 cm Design: Arielle de Brichambaut