Katharine Pooley Presents the Mayfair Townhouse
DESIGNED BY KATHARINE POOLEY THIS SIX FLOOR MAYFAIR TOWNHOUSE COMBINES CUTTING EDGE LIGHTING WITH ORNATE CLASSICAL ARCHITECTURE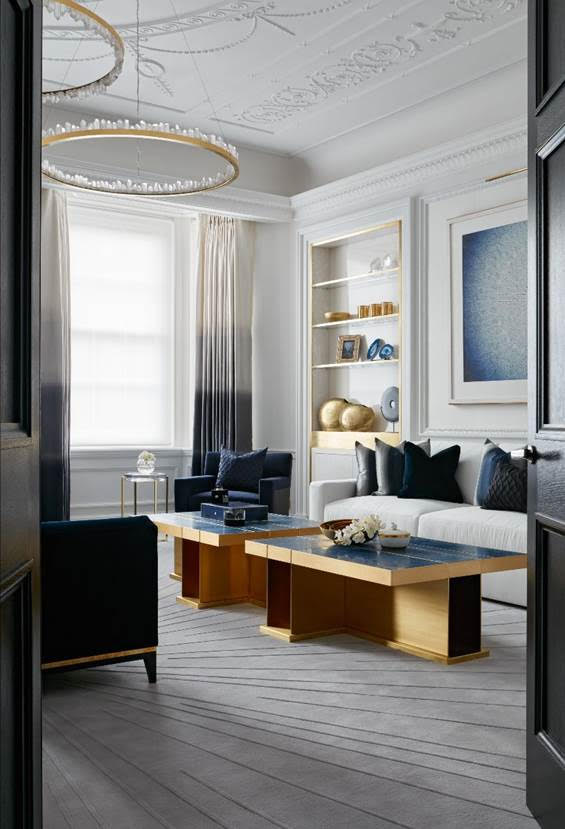 IN THE DRAWING ROOM, THREE ROCK CRYSTAL AND BRASS LIGHTING INSTALLATIONS ARE SUSPENDED BELOW THE INTRICATE SCROLLING PLASTER MOULDINGS TO THE CEILING.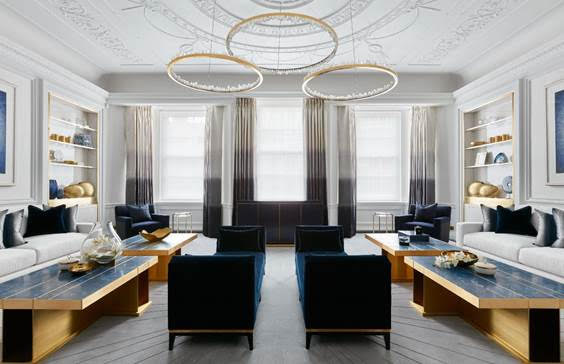 PERFECT SYMMETRY IS INTEGRAL TO THIS DESIGN, WITH EVERY DETAIL MIRRORED TO AMPLIFY THE BEAUTIFUL SYMMETRY OF THE ARCHITECTURE.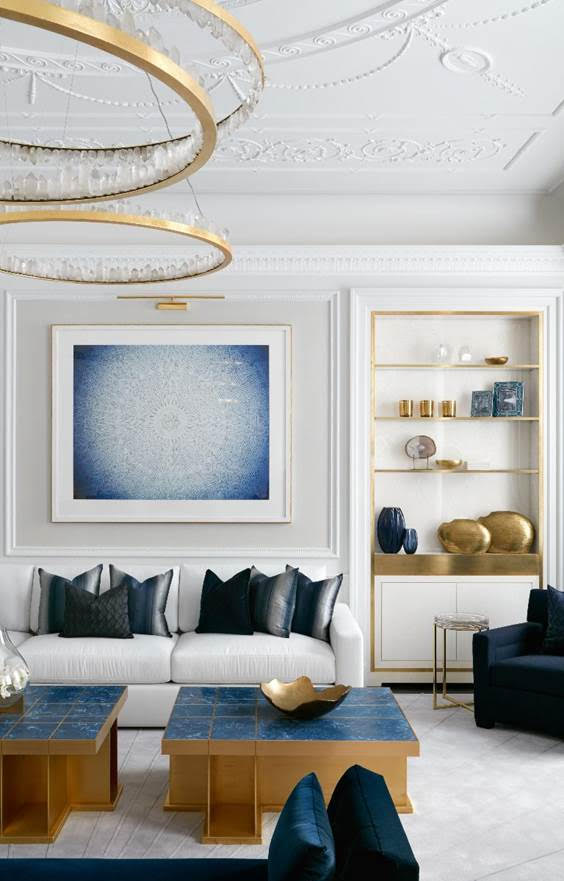 CLEAN LINES REQUIRE BEAUTIFUL FINISHES: LAPIS COFFEE TABLES DRAW THE EYE, WHILE BLEACHED BIRDS EYE MAPLE JOINERY IS BACKED WITH THE HIGHEST GRADE OF WHITE ONYX.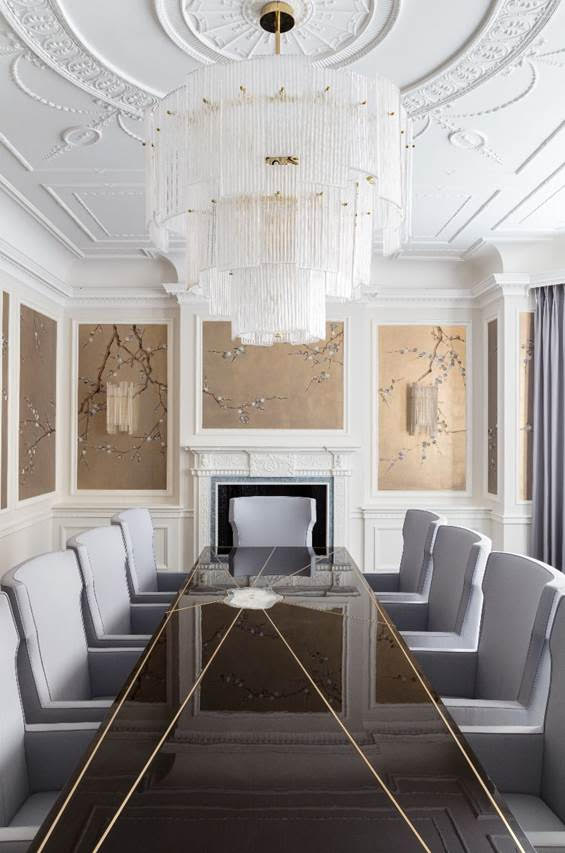 THE DINING ROOM BALANCES AN OPULENT GILT BACKED, HAND PAINTED CHERRY BLOSSOM CHINOISERIE WALLPAPER, WITH A RIPPLE EFFECT MURANO GLASS CHANDELIER AND WALL LIGHTS.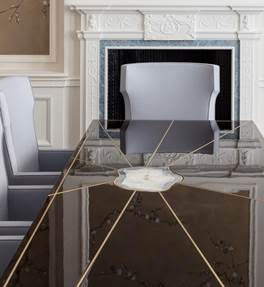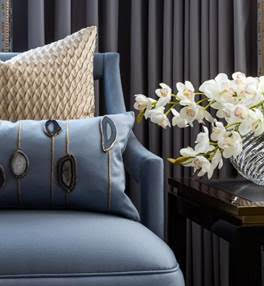 ONE OF A KIND DETAILING IS SCATTERED THROUGHOUT – FROM THE INSET AGATE AND BRONZE STARBURST DINING TABLE TOP, TO THE AGATE AND BRASS THREAD STITCH WORK ON THE CUSHIONS.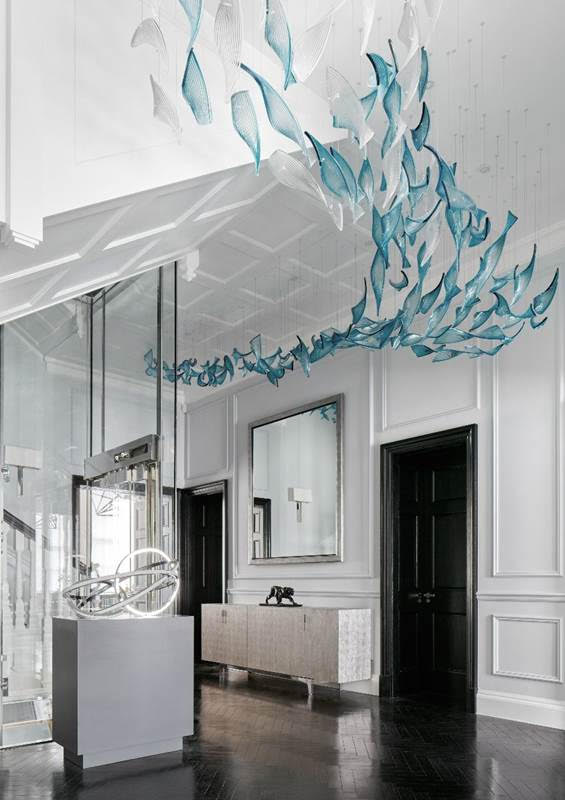 THE MAIN ENTRANCE, WITH ITS VAST CEILINGS AND LISTED PANELLING IS THE PERFECT BACKDROP TO SHOWCASE A SWEEPING INSTALLATION OF TWISTED GLASS.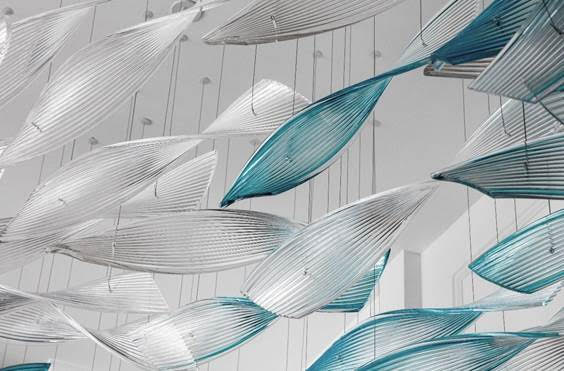 EACH PIECE OF THE CHANDELIER WAS METICULOUSLY HAND CRAFTED IN EUROPE TO REFLECT THE EXACT SHAPE AND OMBRE EFFECT I WISHED TO ACHIEVE.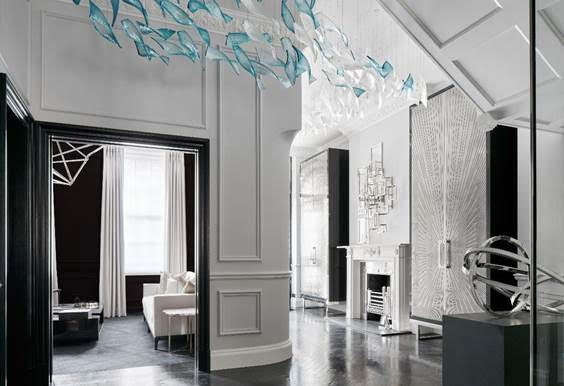 WHEN PAIRING HIGH GLOSS, BLACK CHEVRON PARQUET FLOORS, A BESPOKE GLASS LIFT SHAFT AND A SCULPTURE FROM IRISH ARTIST NIAMH BARRY, THE FINAL EFFECT IS UNDENIABLY AWE-INSPIRING.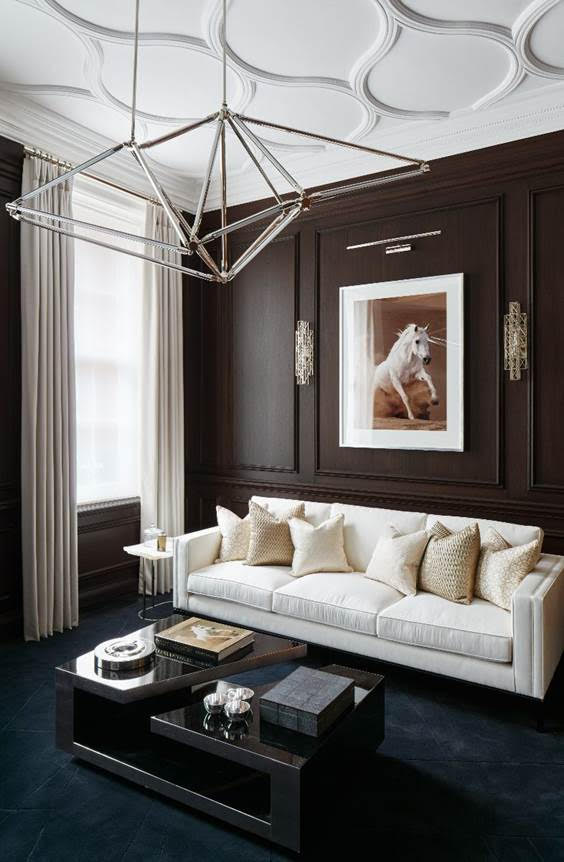 A DARK PANELLED RECEPTION ROOM COMBINES THE ORIGINAL ARTS AND CRAFTS MOULDINGS WITH THE STARK LINEAR UTILITARIANISM OF NEW YORK LIGHTING DESIGNER BEC BRITTAIN. SELENITE SIDE TABLES AND CASHMERE CURTAINS ADD TOUCHES OF ORGANIC WARMTH.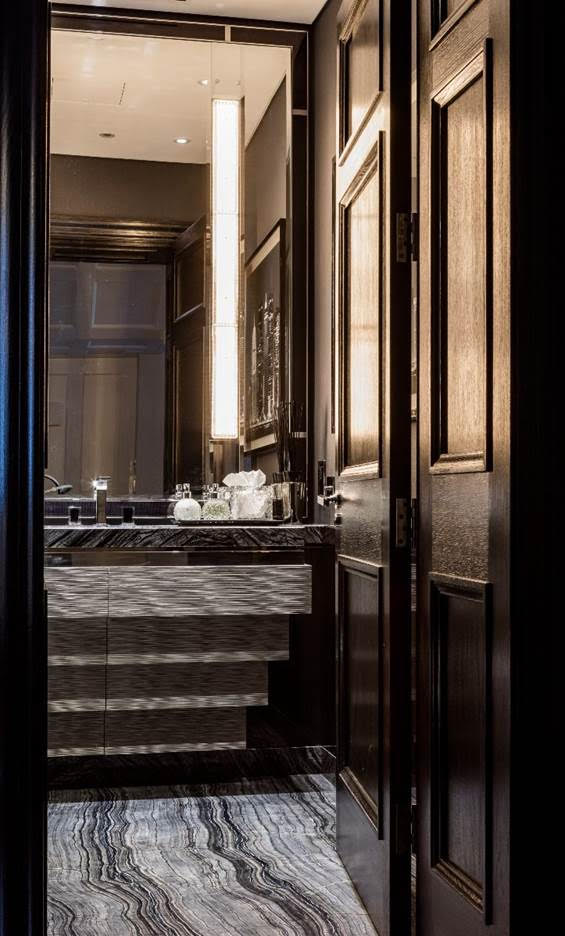 TO CREATE THE DARK AND MOODY FEEL THE CLIENT WANTED, I SPECIFIED BLACK WOOD MARBLE FLOORING AND VANITY TOP WITH REBATED MURANO GLASS WALL LIGHTS.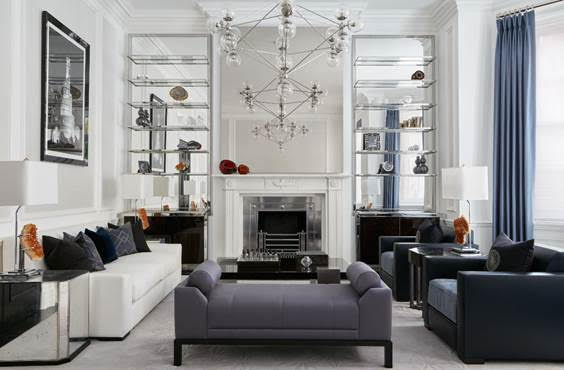 THE GROUND FLOOR LIVING ROOM FEATURES A LARGE MIRROR TO REFLECT THE ELEGANT SIMPLICITY OF THE PAIR OF VAST NICKEL AND CRYSTAL ORB CHANDELIERS.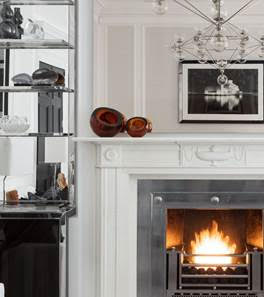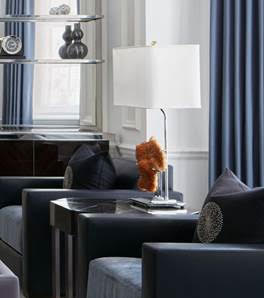 I JUXTAPOSED THE INTRICATE CARVED DETAILING OF THE STATUARY MARBLE FIREPLACE WITH CONTEMPORARY BURNT ORANGE ACCESSORIES AND BESPOKE LAMPS MADE FROM LARGE NUGGETS OF CITRINE CRYSTAL.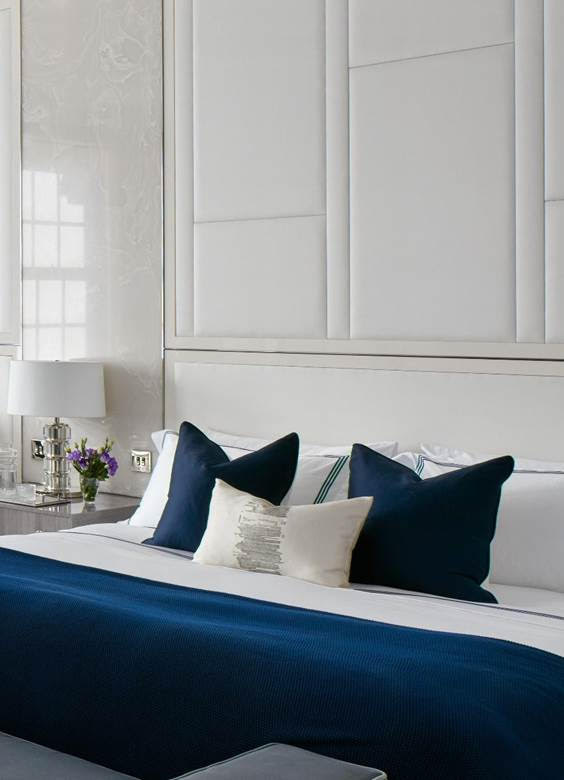 IN THIS BEDROOM, A DEEP COBALT BLUE ADDS DEPTH TO AN IVORY SCHEME. GYPSUM PANELLING SITS EITHER SIDE OF THE HEADBOARD AND IS SOFTLY LIT BY THE CRYSTAL AND NICKEL TABLE LAMPS BELOW.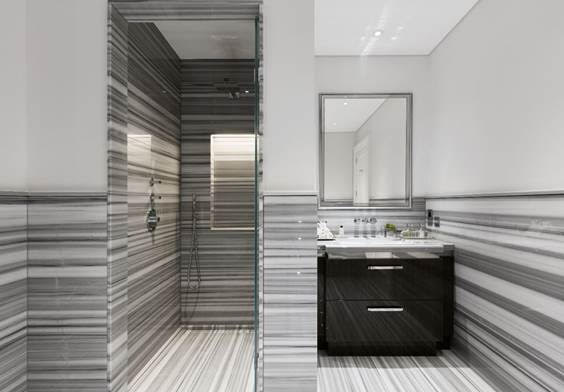 EVERY BATHROOM FEATURES A DIFFERENT MARBLE, WHICH I SELECTED ON MY TRAVELS TO THE QUARRIES OF NORTHERN ITALY TO CHOOSE ONLY THE HIGHEST-GRADE SLABS. THIS HIGHLY POLISHED ZABRINA MARBLE IS STUNNING WHEN LAID HORIZONTALLY AROUND THE ROOM.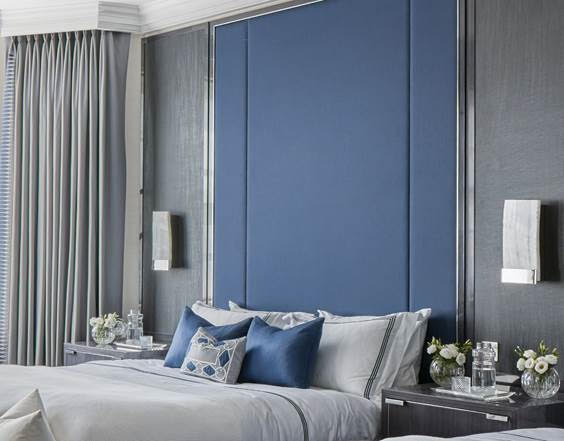 THIS GUEST BEDROOM FEATURES INCREDIBLE SELENITE SLAB WALL LIGHTS. THEY ARE HELD IN A POLISHED STAINLESS STEEL KNUCKLE MADE BY MY METALWORKERS AND GLOW BEAUTIFULLY WHEN LIT.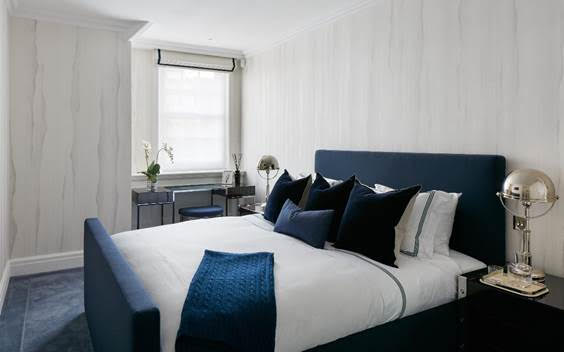 ON THE TOP FLOOR OF THE PROPERTY, I REWORKED THE LAYOUTS TO CREATE THREE CHILDREN'S BEDROOMS. THESE NICKEL TABLE LAMPS ADD A PLAYFUL TOUCH TO THE OLDEST BOY'S BEDROOM.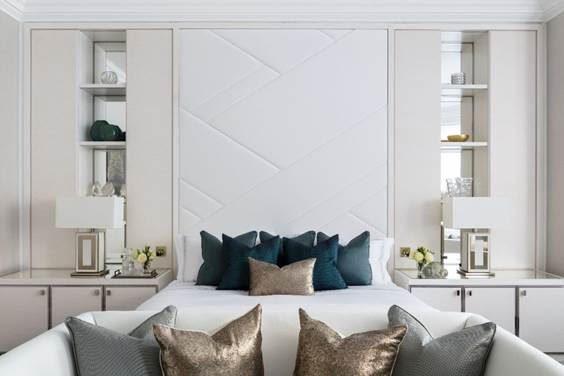 EMERALD GREEN SILK AND BURNISHED BRONZE CUSHIONS ADD RICHNESS TO THIS TONAL MASTER BEDROOM. I ECHOED THE LEATHER AND NICKEL FINISH OF THE TABLE LAMPS IN THE SURROUNDING JOINERY TO BRING THE SCHEME TOGETHER.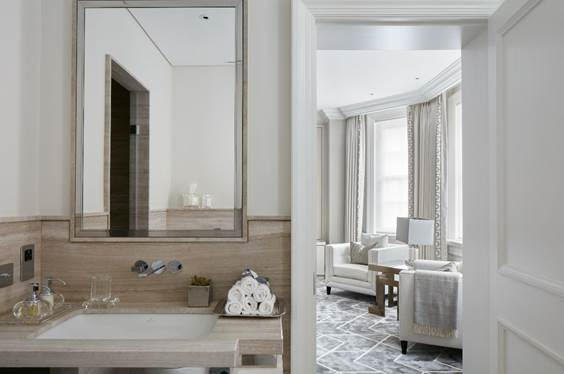 THE MASTER ENSUITE IS CLAD IN A CREAM TRAVERTINE STONE, WHICH I TEMPERED WITH IVORY POLISHED PLASTER ON THE UPPER HALF OF THE WALLS.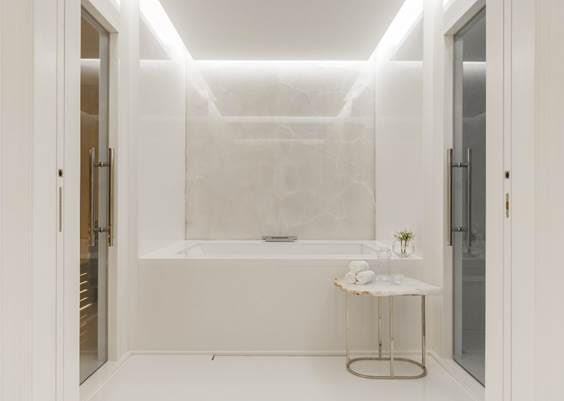 WE ADDED A BASEMENT, GROUND FLOOR AND ROOF TERRACE TO THE PROPERTY AS PART OF THE EXTENSIVE BUILDING WORKS. THE BASEMENT DESIGN COVERED A LIGHT FILLED SPA, SAUNA, STEAM ROOM AND GYM. THE TERRACES WERE CLAD IN LIMESTONE AND FEATURED CONTEMPORARY SCULPTURAL FURNITURE.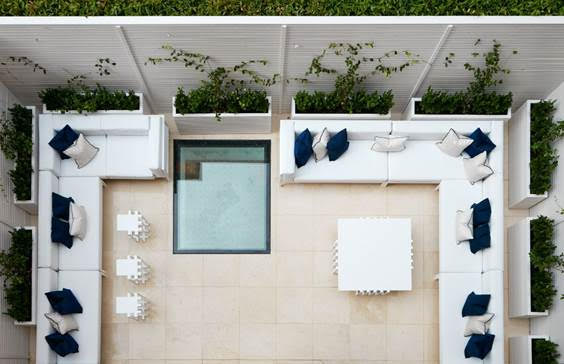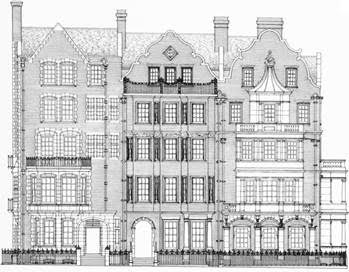 IT'S INCREDIBLE TO THINK, THAT WHEN I ACCEPTED THIS COMMISSION, THIS REMARKABLE MAYFAIR TOWNHOUSE WAS AN ABSOLUTE WRECK THAT HAD BEEN ABUSED FOR DECADES AND PARTITIONED AS A COMMERCIAL PREMISES. WE STRIPPED BACK THE LAYERS, REFURBISHED AND REINSTATED THE ORIGINAL ARCHITECTURAL DETAILING AND CREATED A HOME OF OUTSTANDING ELEGANCE AND LUXURY. I WILL NEVER FORGET THE CLIENT'S TEARS WHEN SHE SAW WHAT WE HAD CREATED FOR THEM. THIS IS WHY I LOVE WHAT I DO AS A DESIGNER.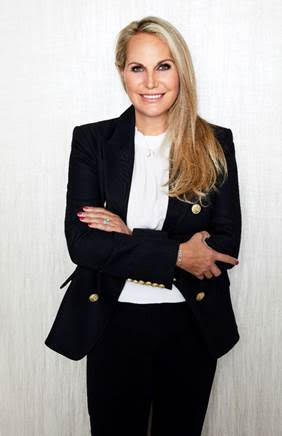 I LOVE A CHALLENGE SO IF YOU HAVE A PROPERTY YOU WOULD LIKE TO SEE REIMAGINED, OR A DREAM THAT NEEDS REALISING, DON'T HESITATE TO GET IN TOUCH .