SANGHA Retreat by OCTAVE Institute announces membership of Preferred Hotels & Resorts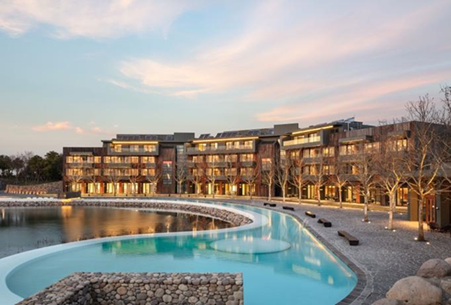 16th July 2020 – SANGHA Retreat by OCTAVE Institute, a leading integrated and immersive wellbeing sanctuary located in Suzhou, west of Shanghai, is pleased to announce its membership of Preferred Hotels and Resorts, the world's largest global provider of sales, marketing, and distribution to independent hotels. With a shared vision to deliver a distinctive experience and ensure the highest standard of customer satisfaction, SANGHA Retreat is proud to be the first member hotel in the China luxury wellness market for Preferred Hotels & Resorts.
With the rapid acceleration of wellness travel in today's new era of consciousness and wellbeing, SANGHA Retreat is curated as a state-of-the-art wellness destination combining the ancient wisdom of the East with the latest Western scientific research. The personalized wellness journey for each guest reaches a new level of holistic well-being by reframing, rewiring, reskilling and renewing through comprehensive medical assessment, wellness treatments and access to the SANGHA Retreat's daily Living Habits activities to satisfy the needs of mind, body and spirit. The recently launched Immunity Boost Program aims to meet the urgent need for emotional processing and regeneration in the aftermath of COVID-19.
The announcement of the strategic alliance with Preferred Hotels and Resorts marks a new chapter to SANGHA Retreat bringing competitive advantages through brand prestige and global operating scale. It will also provide corporate and leisure travel sales, integrated marketing solutions, global connectivity and reservations services, electronic distribution services, and technology and guest services support to the hotel.
With the affiliation, all guests of SANGHA Retreat will gain valuable travel benefits through Preferred's sophisticated membership programme I Prefer Hotel Rewards (with more than 3.5 million travelers currently enrolled in the membership) and experience the renowned quality standards that are measured by yearly anonymous on-site inspections carried out by professional third-party experts.
'We are delighted to be joining Preferred Hotels & Resorts, and to introduce the unique philosophy of SANGHA Retreat by OCTAVE Institute to its global community of guests. Only one-hour west of Shanghai Hongqiao International Airport, the wellness retreat combines the vast knowledge and wisdom of the East with cutting-edge Western science and medicine, culminating in bespoke wellbeing transformational programs which holistically address physical, mental and spiritual health. Situated on the peaceful shores of Yangcheng Lake in Suzhou, every element of the retreat has been considered as an integral element of the guests stay. We look forward to working with Preferred Hotels and to welcoming their guests in the near future.' Christina Deeny, Chief Sales & Marketing Officer.
'As we all reassess our motivations for travel in a post-pandemic world, we believe there is an increased desire to travel for personal improvement, with travellers seeking rejuvenating and health-centred experiences. At SANGHA Retreat it is our aim to provide a sustainable foundation for growth towards a more purposeful and mindfully lived life, and we look forward to welcoming guests seeking fully immersive, holistic solutions to optimal health.' John Reed, Chief Operating Officer.
To celebrate the partnership with Preferred Hotels & Resorts, SANGHA Retreat will offer "A Taste of Sangha" one-night package with an additional dining experience and benefits of I Prefer hotel rewards program from 1 July, 2020 through to 30 September, 2020. "A Taste of Sangha" program includes an integrated wellness assessment, access to 9 sessions daily as part of the Living Habits calendar, access to the comprehensive Hydrothermal Spa Circuit, and one-night accommodation in a Lakeview Suite with healthy and nutritionally balanced breakfast and a lunch dining experience, prices from RMB4200 per person and RMB4500 per couple. (* Terms and Conditions apply)