Katharine Pooley Presents A Converted Countryside Barn
Bring The Outside In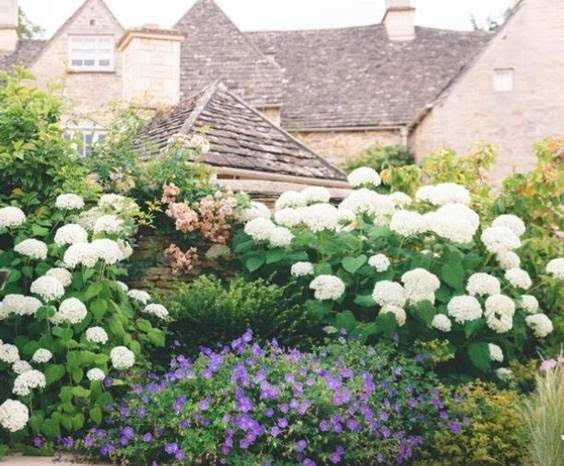 SURROUNDED BY EXTENSIVE GARDENS, THIS BARN CONVERSION IN THE HEART OF THE ENGLISH COUNTRYSIDE UPLIFTS & INSPIRES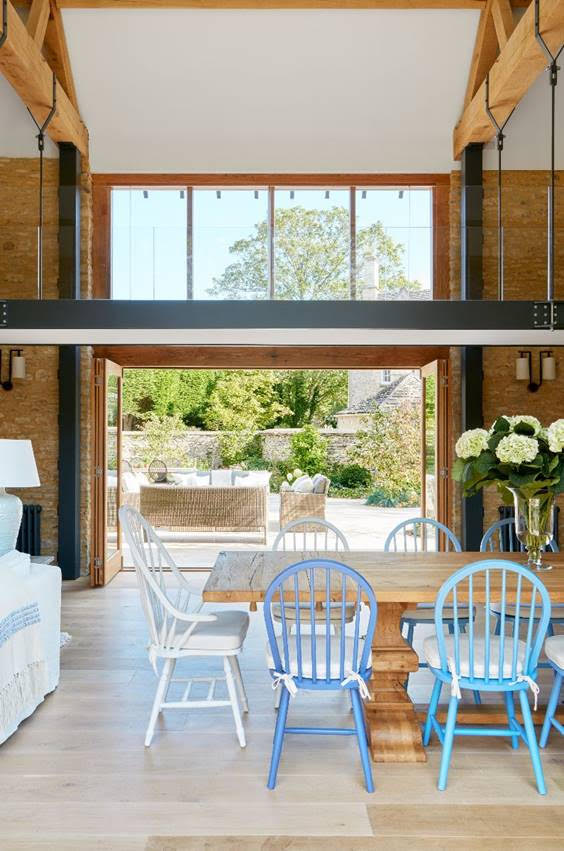 "THIS OPENING IN HONEY COLOURED STONE WAS DESIGNED TO BEAUTIFULLY FRAME THE GARDEN VIEW BEYOND"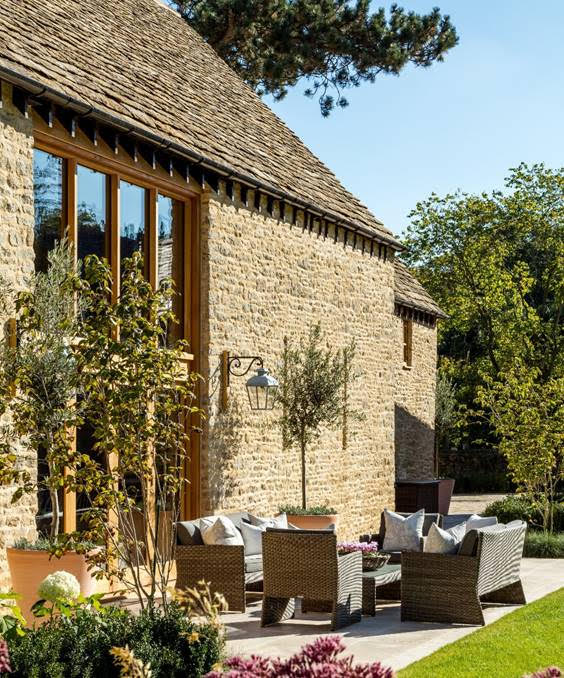 THE PROPERTY IS GRADE II LISTED AND WAS ORIGINALLY AN OUTBUILDING BELONGING TO A WORKING MILL.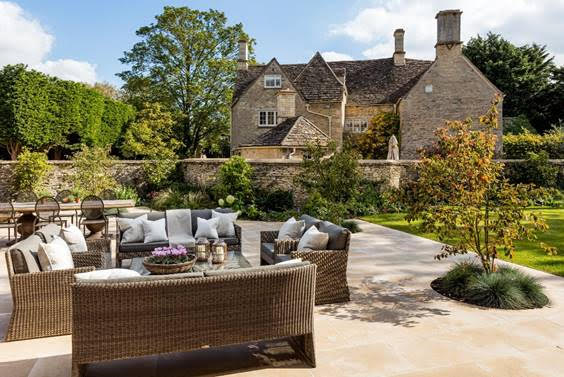 THE IMMEDIATE SURROUNDINGS ARE PART OF THE LEAFY ESTATE CONTAINING SEVERAL HOUSES ALSO OWNED BY THE CLIENT'S FAMILY.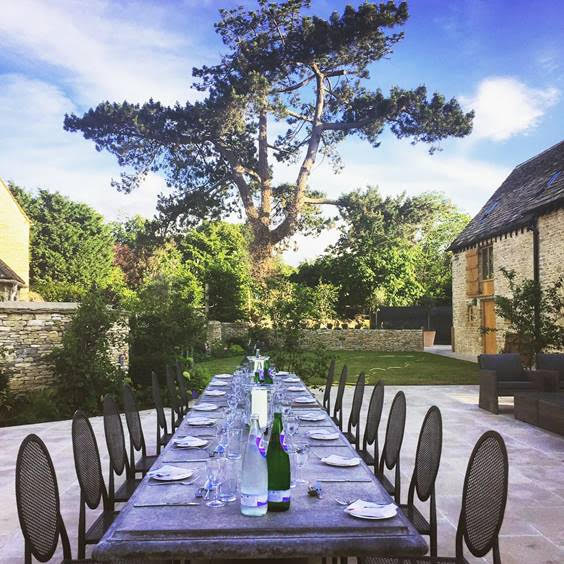 THE GROUNDS ONCE BELONGED TO A NOTED BOTANIST WHO PLANTED SOME WONDERFUL SPECIMEN TREES IN THE EARLY 1900s. THIS PINE TREE STANDS MAJESTICALLY OVER THE TERRACE DINING AREA.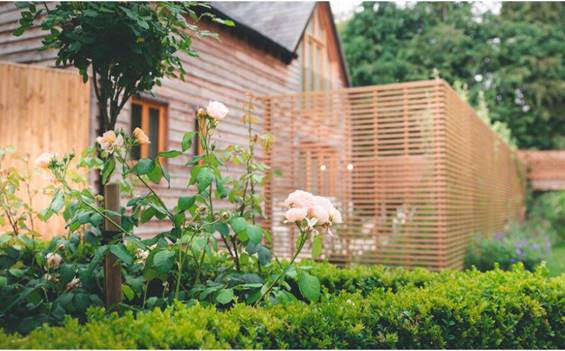 THE BRIEF WAS FOR A WILD GARDEN WITH AN ELEMENT OF CONTROL. LONDON BASED LANDSCAPER NICHOLAS OBOLENSKY CREATED A DESIGN THAT IS BOTH UNIQUE AND MANAGEABLE.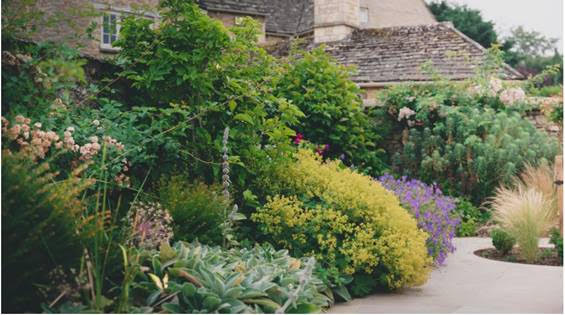 THE PLANTING WAS DIVIDED BY NICHOLAS INTO THREE DISTINCT AREAS: A COLOURFUL PRIVATE BACK GARDEN, A LARGE AND INVITING DINING TERRACE FLANKED WITH MAGNOLIAS AND A MORE TONALLY PLANTED, COBBLED ENTRANCE AREA.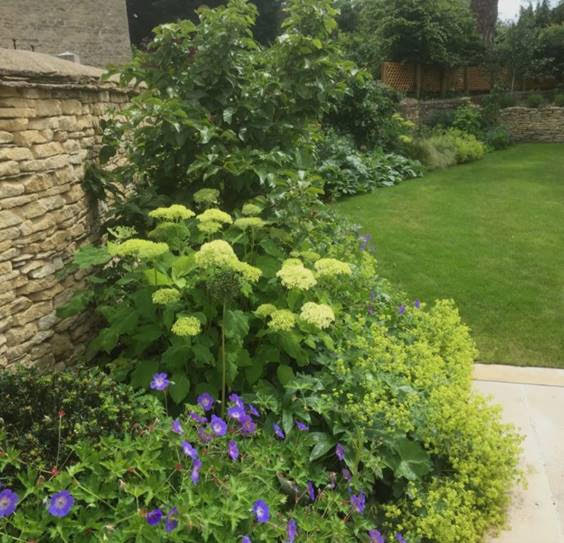 HYDRANGEAS, BLUE GERANIUMS AND SOFT CLOUDS OF ENGLISH GARDENERS FAVOURITE 'ALCHEMILLA MOLLIS' SPILL OVER THE SOFT CURVE OF THE FORMAL BEDS.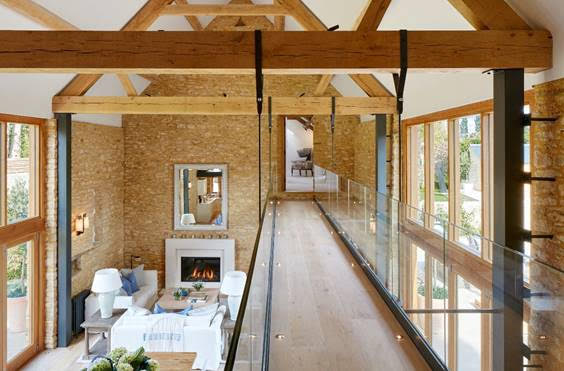 THIS VIEW TAKES YOU UPSTAIRS TO THE GLASS AND STEEL WALKWAY THAT CONNECTS THE TWO UPPER LEVELS OF THE BARN. I LOVE THE CLEAN LINES OF THE LIMESTONE FIREPLACE BELOW.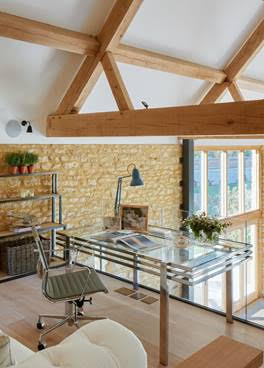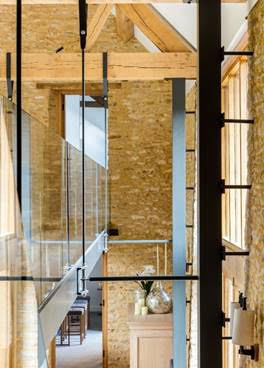 CLEAN ARCHITECTURAL LINES WERE ALSO EMBRACED IN THE FURNITURE AND LIGHTING. THEY SIT HAPPILY AGAINST THE LINEAR PRECISION-ENGINEERED STEEL THAT SUPPORTS THIS OPEN PLAN SPACE.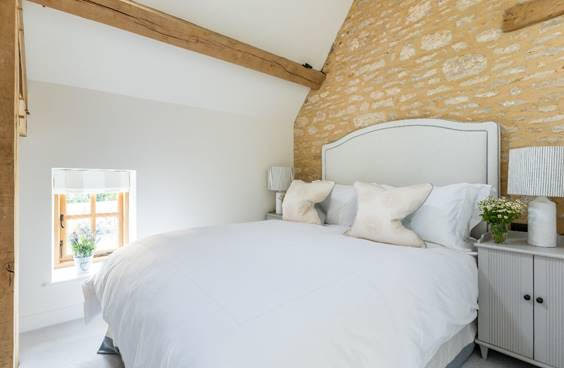 THE MASTER BEDROOM IS A STUDY IN UNDERSTATED ELEGANCE. THE ROUGH BEAUTY OF THE STONE BACKDROP AND OAK BEAMS IS PERFECTLY TEMPERED WITH LIGHT LINENS, SUBTLE PATTERNS AND LIME WASHED TIMBER.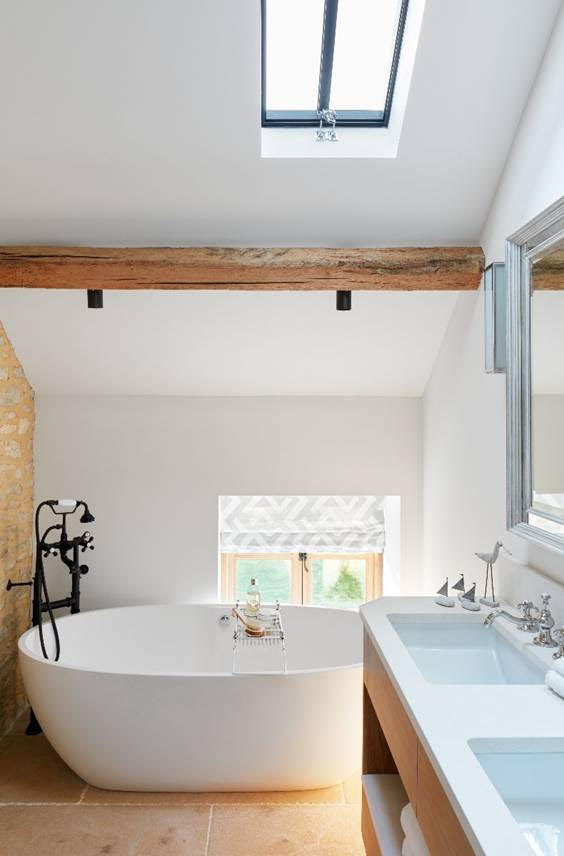 THE MASTER BATHROOM FEATURES A DREAMY SCULPTURAL FREE-STANDING BATH TUB CAREFULLY POSITIONED FOR GARDEN VIEWS.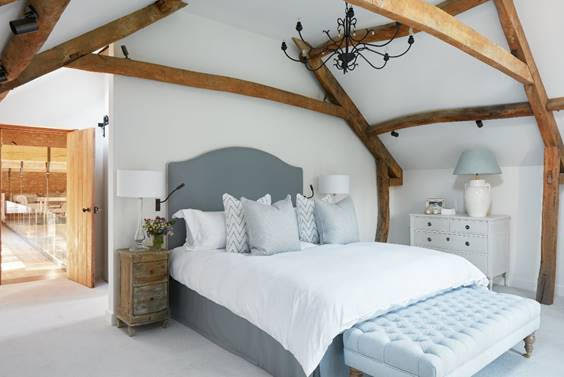 THE BRIGHT AND AIRY MEZZANINE LEADS THROUGH TO SNUG AND COSY BEDROOMS.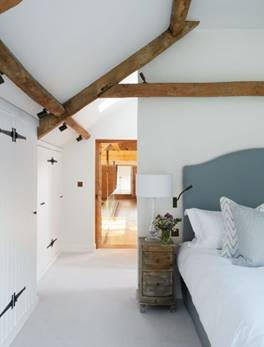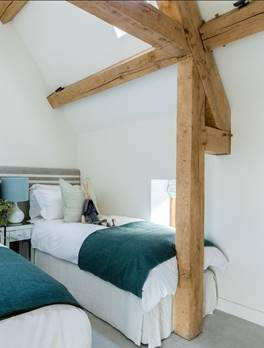 "I PICKED BLUE AND TEAL LINENS FOR THE HEADBOARD UPHOLSTERY AND BED THROWS TO ADD A POP OF COLOUR"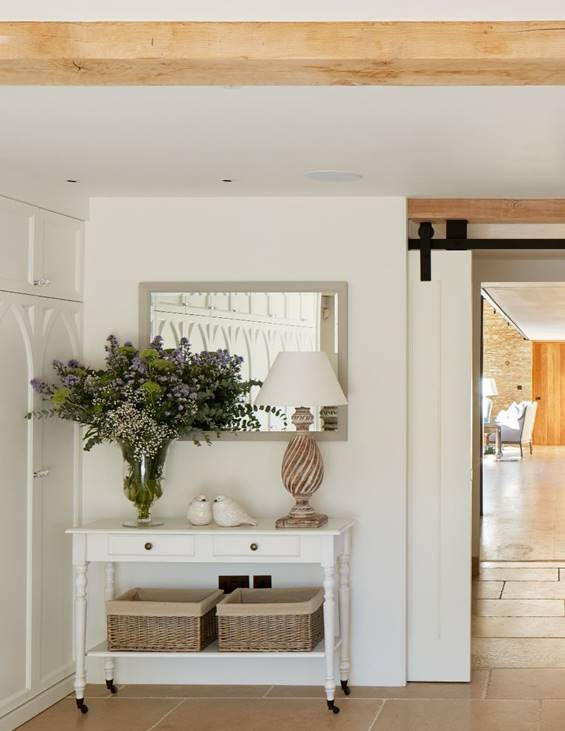 I CONTINUED THE SAME SERENE COLOUR SCHEME WITH ACCENTS OF BLUE INTO ALL SECONDARY SPACES. THE ENTRANCE HALL AND LIVING ROOM ARE PARTICULARLY PEACEFUL.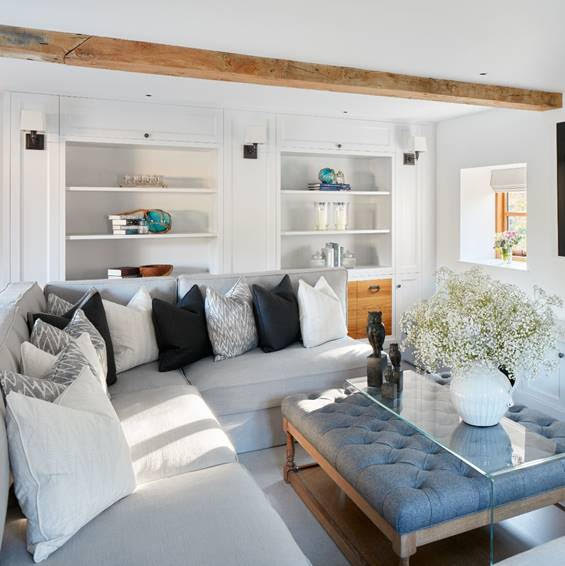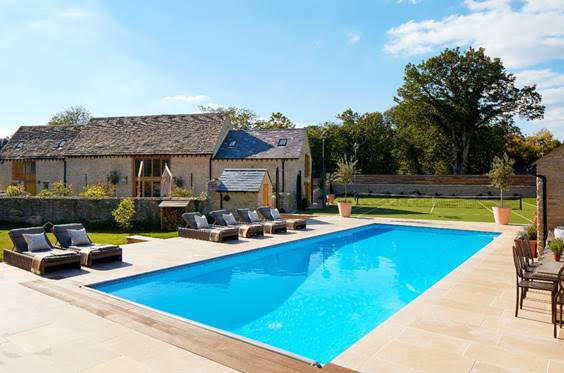 THE BARN OVERLOOKS A BESPOKE SWIMMING POOL AND PURPOSE-BUILT TENNIS COURT FOR THIS HIGHLY SPORTY FAMILY TO ENJOY ALL YEAR ROUND.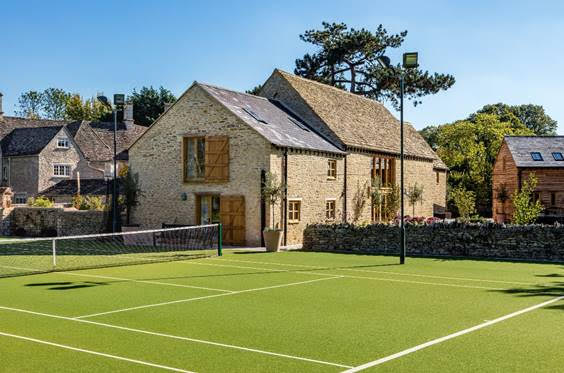 MY TEAM AND I WERE INVOLVED WITH THESE EXTENSIVE RENOVATIONS FROM BEGINNING TO END.
THE LISTED BUILDING STATUS MEANT THAT THE WORKS HAD TO BE SENSITIVELY HANDLED, BUT LUCKILY ALL MEMBERS OF THE DESIGN AND BUILD TEAM WERE SUCH EXPERTS IN THEIR FIELD THAT IT WAS A JOY TO WORK ON FROM START TO FINISH.