Katharine Pooley "Future Perfect "
KATHARINE POOLEY SHOWCASES HER TOP INTERIOR TRENDS FOR A/W 2020 USING UNSEEN EXAMPLES FROM HER NTERIOR DESIGN OF 'THE CLARENCE AT ST JAMES'.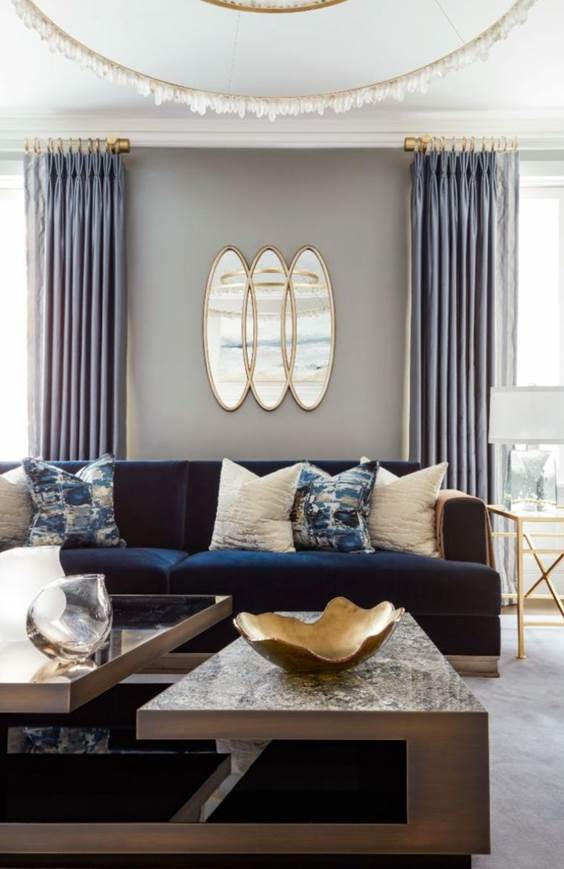 CONTEMPORARY SCULPTURAL CHANDELIERS MADE FROM ORGANIC MATERIAL SUCH AS ROCK CRYSTAL ARE A CHIC AND LUXURIOUS ADDITION - GROUP TWO OR THREE TOGETHER FOR ADDED IMPACT.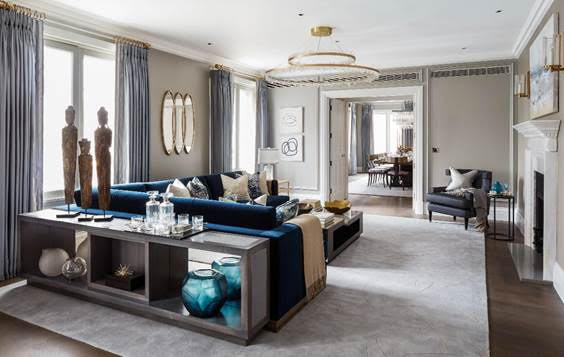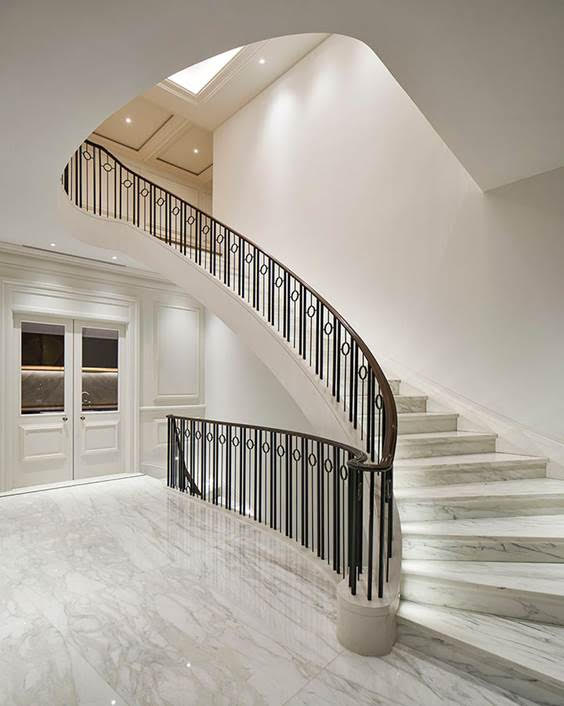 POLISHED ITALIAN MARBLE SLABS LOOK FABULOUS WHEN USED FOR A STAIRCASE AND HALLWAY – CONTRAST WITH DARK BRONZE METAL WORK TO EMPHASIZE THE GRACEFUL CURVES OF THE BALUSTRADE.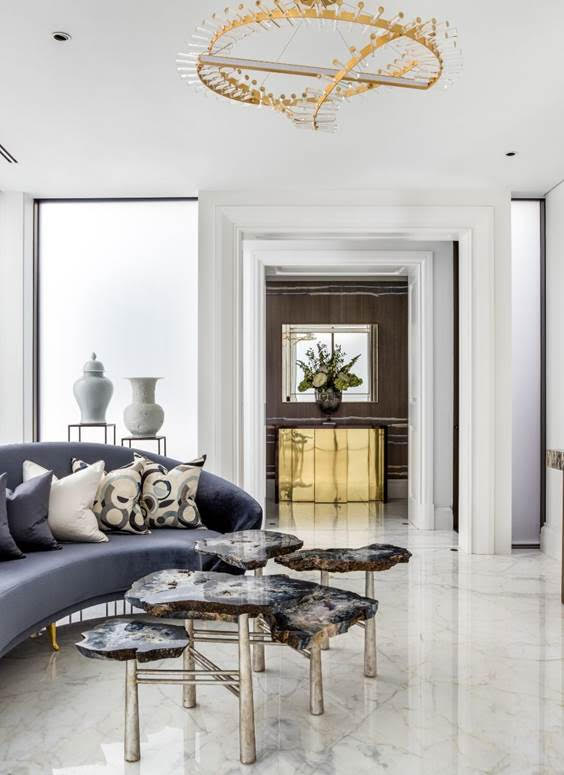 AN ARTFUL BALANCE OF ANTIQUE ACCESSORIES, MID-CENTURY FURNITURE AND FUTURISTIC LIGHTING CREATES A CONTEMPORARY ORIGINAL INTERIOR.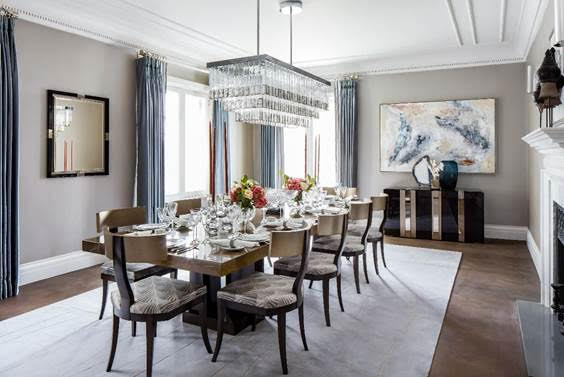 THIS AUTUMN I AM INSPIRED TO DECORATE TABLE TOPS WITH LAYERS OF FINE CRYSTAL FACETED VASES, CRYSTAL CANDELABRA AND FLUTED GLASSWARE. THEY ALL LOOK PARTICULARLY IMPRESSIVE ON A HIGH GLOSS TABLE.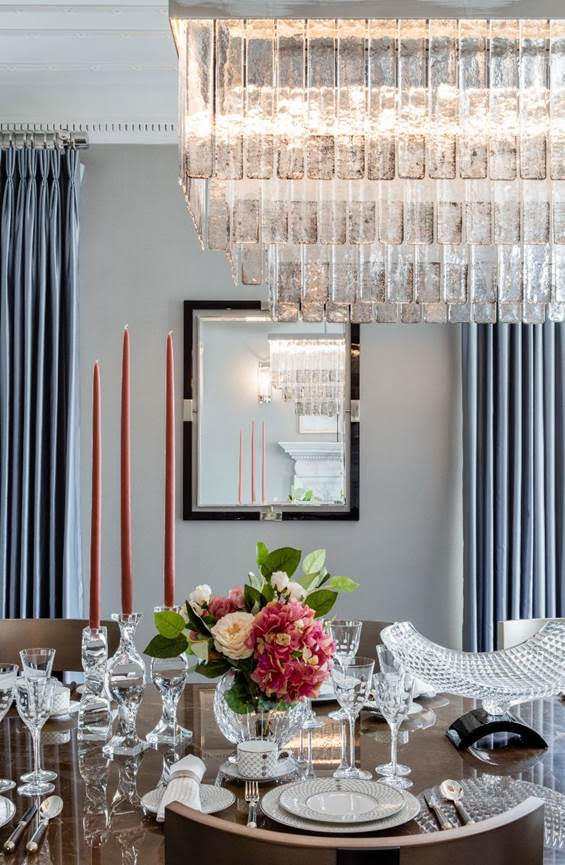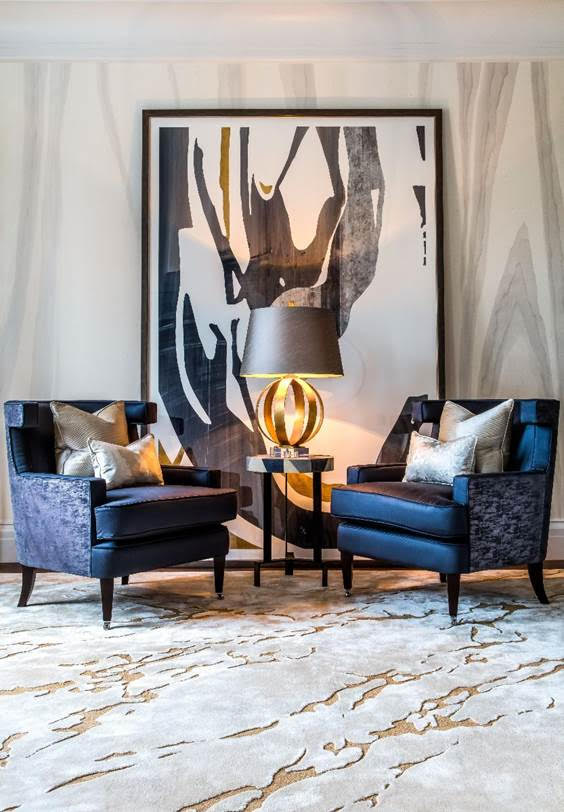 CONSIDER ADDING A TOUCH OF METALLIC LUREX FIBERS TO BESPOKE FLOOR RUGS. IT ADDS A SUBTLE LUSTER THAT REALLY DRAWS THE EYE.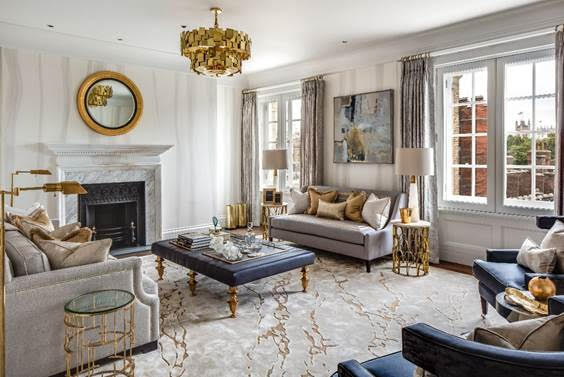 HAND PAINTED SILK WALLPAPERS WITH ABSTRACT SOFT WASHES OF COLOUR ADD A FRESH CONTEMPORARY TWIST TO A FORMAL LIVING ROOM INTERIOR.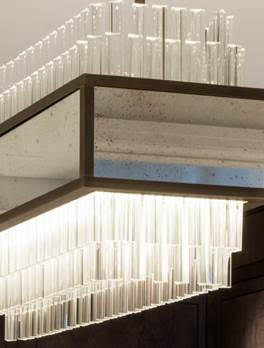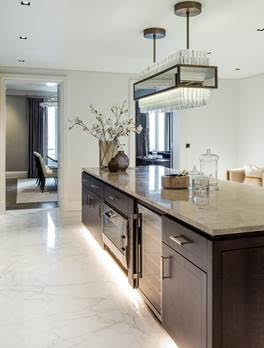 ADD UNEXPECTEDLY GLAMOROUS TOUCHES TO A KITCHEN. THIS CRYSTAL, BRONZE AND MIRROR PENDANT CREATES A WOW FEATURE OVER THE CENTRAL ISLAND.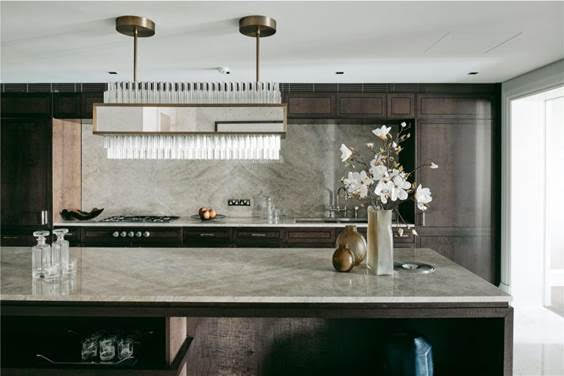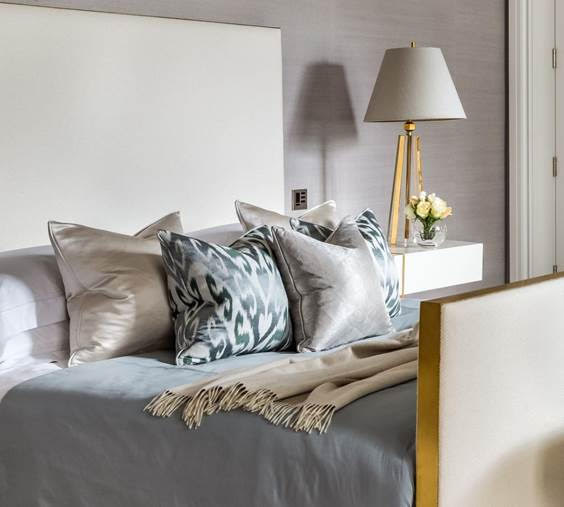 IKAT IS ONE OF MY FAVOURITE PATTERNS. COMBINE IT WITH PLAIN TEXTURED SILK CUSHIONS FOR A TIMELESS AND ELEGANT GUEST BEDROOM DESIGN.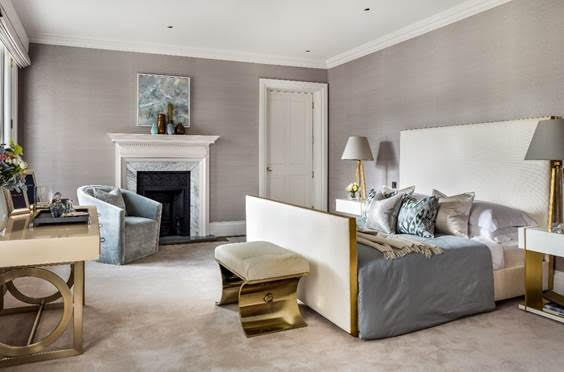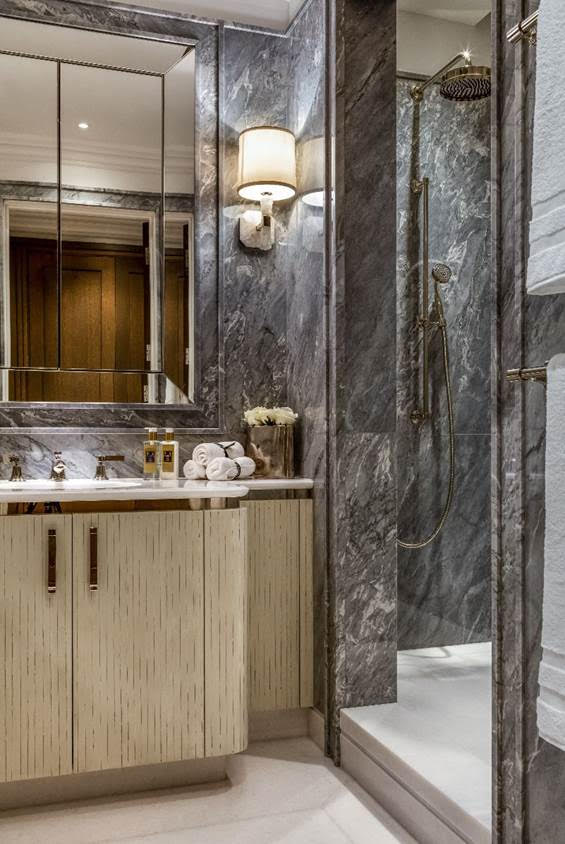 IN SMALLER BATHROOMS COMBINE A DARK GREY MARBLE LIKE THIS BLUE DE SAVOIE STONE, WITH A BRIGHT WHITE THASSOS TO FLOORS AND VANITY TOPS – SO CHIC.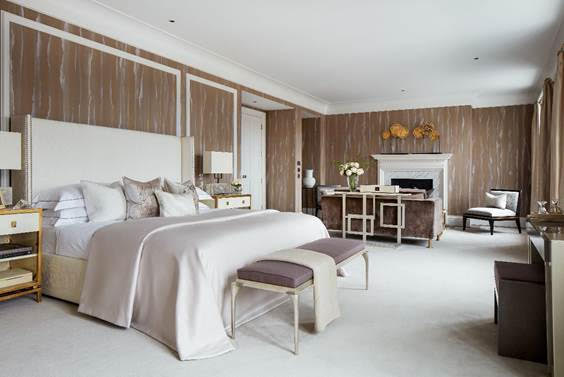 ELEVATE A MASTER SUITE WITH GEOMETRIC EMBROIDERED LEADING EDGES TO CURTAINS AND HAUTE COUTURE INSPIRED METALLIC EMBROIDERY TO BED CUSHIONS IN BRONZE, IVORY AND FAWN.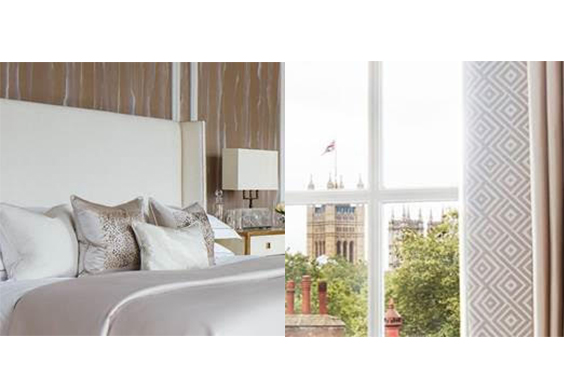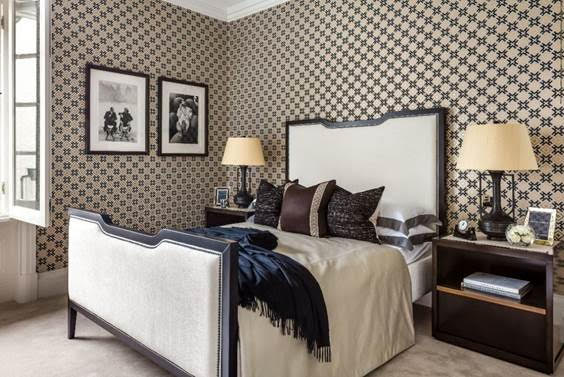 GEOMETRIC PATTERNED WALLPAPER GIVES A FASHIONABLE AND MASCULINE FEEL TO A SMALLER SECONDARY BEDROOM – COMBINE WITH BLACK AND WHITE PHOTOGRAPHY, LIKE THESE TERRY O' NEIL SHOTS, TO COMPLETE THE LOOK.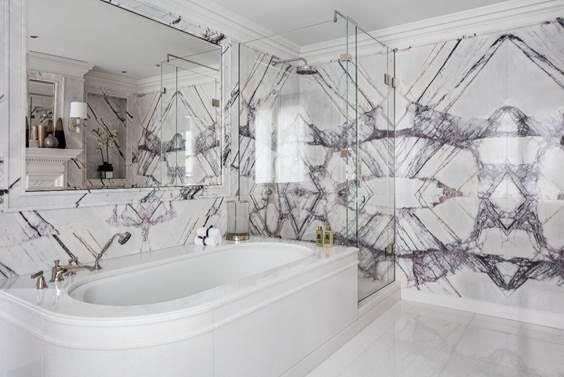 MY FAVOURITE DESIGN DETAIL FOR A/W 2020 HAS TO BE THE OLD SCHOOL DECADENCE OF A GENEROUS MARBLE CLAD BATH.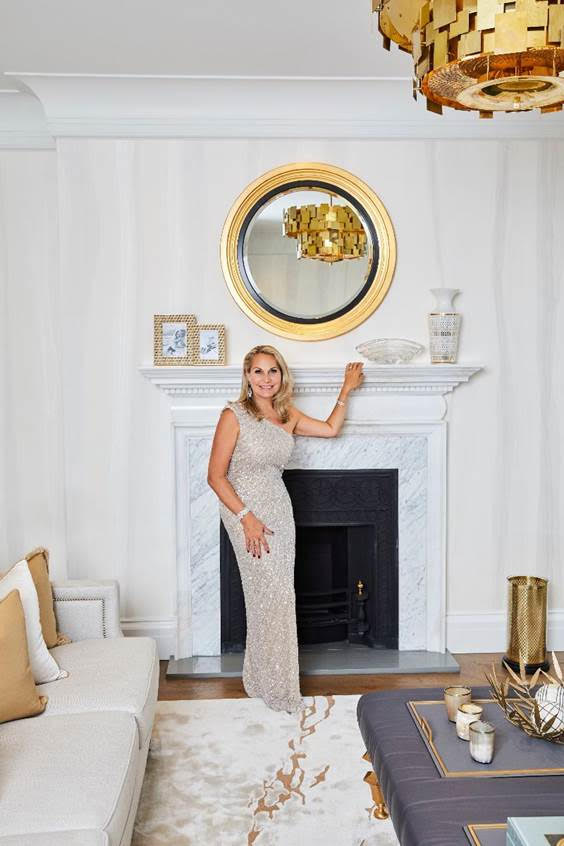 THERE IS SUCH EMOTIONAL VALUE IN AN ELEGANT AND LUXURIOUS HOME. MY TEAM AND I ARE HERE SHOULD YOU REQUIRE HELP IN MAKING YOUR INTERIOR DREAMS A REALITY.